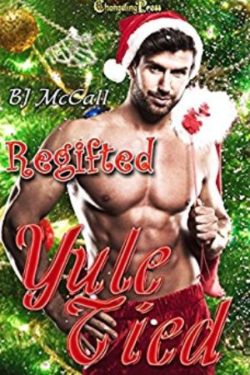 Author

B.J. McCall

Release Date

November 25, 2016

Publisher

Changeling Press

ISBN/ASIN

07869-02539

Our Rating

Reviewed by

Chrissy
Our Review
Fern's Christmas gift from her boss is a perfume. She's just happy to have received a gift until she sees a message inside the box cover 'To Alison from you Secret Santa.'  She's been REGIFTED.  Just the thought of it is depressing but the perfume smells so good Fern can't bring herself to be too upset over it. 
What she thought was merely an awesome scented perfume turns out to be pheromone laced and as it turns out it's irresistible to werewolves – or one werewolf in particular, her neighbor Pace. Pace is in the city on pack business and while being away from his family during Christmastime could be a lonely event he finds himself captivated by Fern, and not just her scent either.   They initially each go to their separate apartments but when the power goes out they find themselves sharing a flashlight and so much more.   What will happen when the holidays are over and Fern's perfume bottle runs dry?
B.J. McCall's contribution to the YULE TIED line, REGIFTED is a fun, flirty, imaginative tale. Fern and Pace made me smile with their flirtatious introduction and sweet acceptance of their differences.  Fern seems to love Pace's ability to transform into a wolf.  I adored their interactions and their willingness to share their love for nature with each other.   While it's a short story, REGIFTED could easily be expounded on and I really think Alison could use her own story – after all, she accidentally regifted the perfume that led to Fern and Pace's relationship, I think she could use a happily-ever-after of her own.
The Changeling Press Christmas/Holiday line has become something I look forward to each year. There are always surprising treats in the stories – in past years I've found myself chuckling at some of the unexpected storylines and I'm sure this year will be no different. 
Other titles in the YULE TIED line:
MISTLETOE AND MASKS by Angela Knight
GIFT OF LOVE by Deidre O'Dare
SANTA'S REJECT by Lila Vega
CANDY CANED by Kiernan Kelly
OOPS! By Anne Kane
GIFT OF A LIFETIME by Ana Raine
Y'ALL TIED UP by Crymsyn Hart
RIBBONS AND BOWS by Marteeka Karland
UNDER THE MISTLETOE by Saloni Quinby
VISIONS OF SUGARPLUM by Sara Jay
CHRISTMAS PARTY by Shelby Morgen