Remarkably Bright Creatures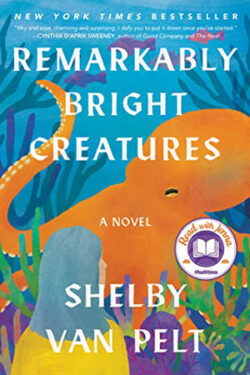 Author

Shelby Van Pelt

Release Date

May 3, 2022

Publisher

Ecco

ISBN/ASIN

B09BNH4TLW

Our Rating

Reviewed by

book lover
Our Review
REMARKABLY BRIGHT CREATURES by Shelby Van Pelt is an amazing book. 
When Tova Sullivan's husband of forty-eight years dies of cancer, she begins working the night shift at the Sowell Bay Aquarium, mopping floors and tidying up. Keeping busy helped her cope when their eighteen-year-old son, Erik, mysteriously vanished on a boat in Puget Sound over thirty years ago.
Tova and Marcellus, a giant Pacific octopus living at the aquarium, become friends. Marcellus knows more than any human can imagine and gets out of the aquarium at will. After Tova untangles him from some electrical cords, a friendship develops between them that is touching and incredibly sweet.
Marcellus helps reunite Tova with a grandson she didn't know she had. There are a whole cast of fabulous characters from Terry, who runs the aquarium, to Cameron, Tova's grandson, to Ethan, owner of the grocery store and in love with Tova. This has two very sweet romances—one with Tova and Ethan, and one with Cameron and Avery. I listened to this book on audio and looked for any excuse to listen to it. I loved this book and highly recommend it.
Recommended Read