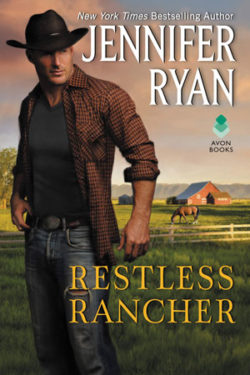 Author

Jennifer Ryan

Release Date

November 26, 2019

Publisher

Avon Books

ISBN/ASIN

9780062851901

Our Rating

Reviewed by

BPoston
Our Review
Austin Hubbard has been down on his luck. He is losing his ranch and his livelihood and feels sorry for himself, finding solace in a bottle. He's in for a rude awakening when Sonya Tucker arrives at his ranch to help him turn things around. Her arrival is epic, a bucket of water poured over his head waking his sorry butt up from a drunken stupor.
Sonya has a hard job ahead of her. She has been hired to get this ranch working again, which means getting a sorry excuse for a cowboy on his feet and helping him realize he never lost the drive or desire to make his childhood home a successful business. With his family working against him at every turn, and people judging her because she's the daughter of a woman who works in a brothel, life isn't easy, and many are hoping they do not succeed. However, one thing they both soon discover is that they both have the desire and willingness to work hard to succeed. What they don't expect is the attraction they feel to each other.
RESTLESS RANCHER is such a great story of how two people who have had such terrible childhoods can overcome what might break most other people. In the process, they discover they are worthy of good things, and that together, if they are willing to take a chance, their dreams of a happily ever after just might come true.
Recommended Read