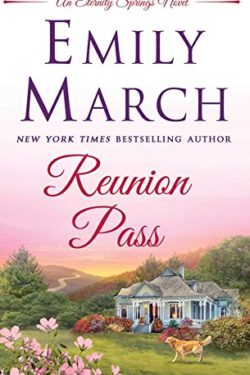 Author

Emily March

Release Date

April 5, 2016

Publisher

Jove

ISBN/ASIN

1250072972

Our Rating

Reviewed by

Dottie
Our Review
Lori Murphy loved her boyfriend Chase, but it was important to her to finish college and become a veterinarian. She didn't want to go through what her single mom had. Unlike Lori, Chase was an adventurer and as they each pursued their own interests, they slowly parted ways. Lori was heartbroken when she realized it was over between them. Now, six years later, she is a veterinarian and Chase, now a world famous photographer, is back in town, but is accompanied by his new fiancée who shares his passion for adventure.
Chase Timberlake had been madly in love with Lori. He had even carried an engagement ring that he wanted to give her. But her career seemed to come before him and soon he was wrapped up in his own new interest, photography. So they drifted apart, however, he never forgot her. When his jet-setting lifestyle turns tragic, Chase returns to Eternity Springs. Blaming himself for the deaths of his two friends, he closes himself off and doesn't want to see anyone, especially his fiancée, who played a part in the tragedy.
Lori cannot bear to see Chase suffer, so when an abandoned puppy is brought into her office, she sees a way of bringing Chase out of his shell. As she checks on him and his new companion from time to time, trying to be a friend to Chase, their feelings for each other are renewed. But she won't interfere with his engagement. Will the heartbreak this time when he leaves break her, or will the healing that Eternity Springs is known for restore not only Chase, but also their relationship? Will Chase leave Eternity Springs after he heals, or has he discovered his roots there run deeper than he thought?
A fast paced tale, REUNION PASS, the eleventh novel in author Emily March's ETERNITY SPRINGS series, is an inspiring, emotion-packed contemporary romance infused with moments of humor. I loved that even though Chase returns to town with a fiancée, still having feelings for Lori, there is never any infidelity. Chase is determined to be loyal to his bride-to-be and Lori tries to be a friend to both of them, despite her heartache. Still, the love between Chase and Lori is undeniable. They know each other so well and are so close that she is the only one who is able to draw him out of his dark torment. She is also the only one he can trust with what happened to him.
Each new installment transports me back to the healing town of Eternity Springs and a chance to revisit Celeste Blessing, the true angel of the small town. Her love, empathy, foresight and ability to be there at just the right moment add an uplifting, inspiring quality to the entire series. Whenever a new book in this collection is released, it is an auto buy for me. Although I consumed this tale in one sitting, there were moments I had to stop reading due to tears, just as there were also times when I could not help laughing out loud. Packed with heartfelt moments, as well as humorous ones, along with healing, plot twists and turns, danger, terrorists, death, passion, sweet romance and true love, this story is a must read. But don't take my word for it; pick up a copy today and lose yourself in Ms. March's inspiring town of Eternity Springs. Each book can be read as a standalone, but I defy anyone to stop at just one. Definitely a recommended read!