Revelations of a Secret Princess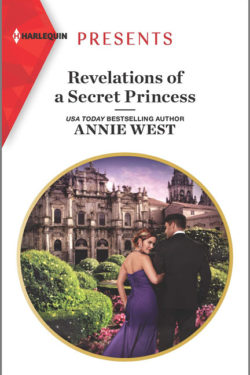 Author

Annie West

Release Date

February 18, 2020

Publisher

Harlequin Presents

ISBN/ASIN

9781335148384

Our Rating

Reviewed by

Jo
Our Review
REVELATIONS OF A SECRET PRINCESS is a quick read. It's set in Switzerland, St. Ancilla, and Australia and involves royalty and a billionaire along with an orphaned child.  Caro has a job interview to care for Jake's orphaned niece, and there are immediate sparks when they meet. She has a secret and isn't upfront with her reasons for wanting the job. He has doubts but gives her a trial run due to how his niece, Ariane, takes to her.  Things heat up fast, but they're not what they seem.
Ariane is four and devastated by the loss of her parents. Her Uncle Jake, her mom's brother, didn't see her as often as he should. He's a billionaire and finance whiz, and his work takes him all over the world making deals.
Caro is from the same island that Ariane is from and can speak the language, which comforts the girl. There's more going on under the surface in this story, and things get tense when Caro's dad finally reaches her and demands she return home.
As Caro's secrets are revealed, will Jake fire her, hire her, or something more? There are some heated between-the-sheets moments, and neither Jake nor Caro know what to do about it. Their lack of communication gets them in trouble more than once, but when they get the right words out, things look so much better. 
The characters have depth, and Caro has a reason for her secrets, the revelation of which comes as a huge shock to Jake. The story was richer than I expected and a fun read. 
Ms. West is a new-to-me author. I look forward to reading more of her books.