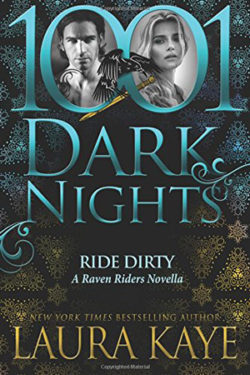 Author

Laura Kaye

Release Date

March 13, 2018

Publisher

Evil Eye Concepts, Incorporated

ISBN/ASIN

1948050293

Our Rating

Reviewed by

Raonaid
Our Review
Caine McKannon is the Raven Riders' sergeant-in-arms, the one who enforces the rules and punishes the rule breakers. He happens upon a mugging and steps in to help the damsel-in-distress. Caine believes Emma Kerry is too good and wholesome for a man like him, yet he cannot forget the spunky blonde. When her safety is jeopardized, he insists on protecting her personally. Can Caine protect Emma from her stalker? Will he give in to his growing desire for her?
Emma Kerry teaches kindergarten at Frederick Elementary School. An unlikely hero rescues not only her but also Emma's dog from a mugger. Something about the silent and ascetic biker speaks to her. Emma throws caution to the wind and makes the first move. When her stalker's attention escalates, she accepts Caine's aid and protection. Can Emma breach Caine's emotional walls? Or will his demons keep them from acting on their mutual attraction?
Caine is a loner, even amongst his Raven Rider brethren. After learning everything he endured as a child, I understand Caine's reasons for maintaining an emotional distance from everyone. I love how, despite his reservations, he still tries to comfort Emma when she needs it most. What I like most about Caine is his ingrained need to protect. Instead of leaving Emma after her mugging, he self-appoints himself as her secret guardian.
Emma's talkative and quirky personality is the perfect opposite to Caine's quietness and antisocialism. I adore how she sees not the dangerous biker but the true Caine beneath his tough guy demeanor. I love how Emma refuses to be put on a pedestal and promptly reminds Caine she is far from perfect. But, what I like the most about Emma is that she's not afraid to question Caine when he's acting out from his emotional demons.
RIDE DIRTY is book 3.5 in Laura Kaye's popular motorcycle club romance series, RAVEN RIDERS. The novella also belongs in the 1001 DARK NIGHTS, number 78, compilation. I love how Haven and Dare, the couple from book one, RIDE HARD, play a small part in this story. Also, I like how the book takes place around Christmas time without the holiday being the main focus.
RIDE DIRTY is an emotional tale of a man finding redemption from his past with the love of a special woman. I am bummed that this will be the last installment of the series. I love how the author asked her readers to choose which Raven Rider to receive their happily-ever-after. Unfortunately, my choice did not get picked, but I hope she will write it someday.
A Recommended Read!