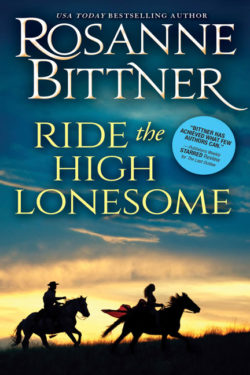 Author

Rosanne Bittner

Release Date

November 26, 2019

Publisher

Sourcebooks Casablanca

ISBN/ASIN

9781492689263

Our Rating

Reviewed by

Jo
Our Review
RIDE THE HIGH LONESOME is the first book in the OUTLAW TRAIL series, and I can't wait to read more. The book held my interest from the first page to the last, and I was turning the pages to see what would happen next. There were so many stories being told in the outlaw country of the Wyoming Territories beginning in August of 1869 that the author seamlessly wove together.
When we first meet Kate and Luke, it's not under the best circumstances. She is wandering alone, lost, hungry, thirsty, and filthy. He's been left for dead by outlaws. From that point on they do their best to work together to get to a town and then on with their lives. 
They have chemistry though. and both are trying to leave their pasts behind and forge a new future whether separately or together. Luke especially has a hard time trusting others due to what happened to him both during the Civil War and after he went home to Ohio.
The small town of Lander, where they end up, has its share of lawlessness, but there's a code of ethics shared by many of those living there. There isn't a sheriff, so townspeople seemed to settle their disputes themselves with brawls, shootouts, and even hangings. But the town also has businessmen and women and families. The cast of characters all bring something different to the story. 
RIDE THE HIGH LONESOME has a nice flow, and the vivid descriptions of the past and settings are fascinating and really contribute to the history of the story. There is a nice twist to the happily-ever-after and an epilogue for closure. 
This is the third book I've read by Ms. Bittner, and I look forward to reading more of her historical fiction and romances.