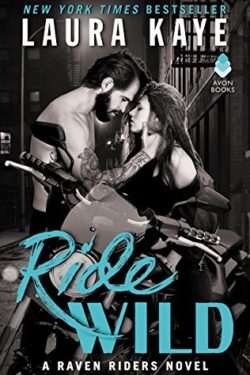 Author

Laura Kaye

Release Date

October 31, 2017

Publisher

Avon

ISBN/ASIN

0062403419

Our Rating

Reviewed by

Raonaid
Our Review
Sam "Slider" Evans works as a mechanic for an auto body and repair shop. Emotionally-wrecked, he only exists for his two young sons. Cora's influence helps Slider reengage with his Raven Riders brethren and the world. His sons' prodding persuades him to hire Cora as their full-time, live-in nanny. Slider cannot help but fall in love with Cora. When her life is endangered, he refuses to lose yet another loved one. Can Slider offer Cora everything she wants? Will he be able to protect her against the masterminds behind the dog fights?
Cora Campbell desperately wants to put the past behind her. She refuses to impose any further on the Raven Rider's generosity. Cora happily accepts Sam "Slider" Evans' offer of becoming his sons' live-in nanny. She cannot help but fall in love with all three Evans males. Cora forges ahead on her dream of becoming a veterinarian by volunteering at a local animal shelter. She learns a devastating truth not only about her sexy boss but about an illegal dog fighting ring. Can Cora help the Raven Riders catch the people responsible for the illegal dog fights? Will Cora find the place she truly belongs?
Slider portrays the emotionally-scarred hero to perfection. He has endured such hardships in life, first his parents and then his wife. There are moments in the book when I wanted to wrap the man in a hug. Cora's influence, especially with his sons, help revitalizes Slider enough to rejoin his brotherhood and the world. I love how he's unafraid to apologize whenever he erred or behaved like a jerk. But what I like most about Slider is how he truly sees Cora and recognizes her mental hang-ups.
Cora is such a positive inspiration for anyone who suffered from a traumatic experience. I admire her ability to compartmentalize. She uses her harrowing experience as a catalyst to push Haven into escaping their evil fathers. Cora hides her emotional and mental scars behind humor and smart aleck remarks. I like how she insists on replacing her bad memories with good and positive memories. But what I love most about Cora is her easy camaraderie with Slider's sons, Ben and Sam. Instead of behaving as another mother figure to them, she interacts with the two boys as a friend.
RIDE WILD is book three in Laura Kaye's romantic-suspense series, RAVEN RIDERS, a spin-off from her popular HARD INK books. I love how Derek "Marz" DiMarzio from HARD TO COME BY makes a small yet vital appearance in the book. This story only reminds me just how much I miss those Hard Ink boys.
RIDE WILD is an enthralling story about two broken souls finding solace with each other enough to heal and love. I hope this is not the end of the Raven Riders. I cannot wait for Phoenix and Caine to get their own happily-ever-after.
A Recommended Read!