Riding Hard (Bennett Boys Ranch)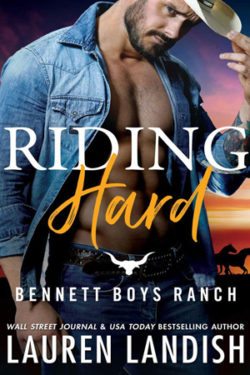 Author

Lauren Landish

Release Date

March 26, 2019

Publisher

Montlake Romance

ISBN/ASIN

9781503903517

Our Rating

Reviewed by

Jo
Our Review
It was nice to return to Great Falls and the BENNETT BOYS RANCH series with the second book, RIDING HARD. This is Katelyn and Mark's story, and the book is told by each of them in alternating chapters. He's the eldest brother of Luke and James and runs the family ranch since his father died. His mom rules the roost and expects gentlemanly ways from her rough and tumble boys. But when she's not around, the foul language flows!
Katelyn has left her hometown in Idaho for her dream job in Great Falls. She's an event coordinator at the hotel and resort there, and one of her first major tasks is getting the contract signed for the wedding of James, the retiring bull-riding champion of the rodeo world to his fiance, Sophie, who comes from money and is studying to be a vet. 
Katelyn meets his brother, Mark, on her first day at work, and sparks fly. Mark's a loner who doesn't do relationships. Katelyn's just left a ten year, very beige relationship and realizes she wants a rainbow now. Mark was burned once and doesn't want to try again.
When their paths randomly cross and the attraction is still there, things look up. Watching them take one step forward and two or three back is heartbreaking, especially knowing Mark is trying to hold back his feelings. But if anyone can break down the barriers, it's Katelyn.
I like Mark's relationship with his family and soon to be sister-in-law as well as Katelyn's with her assistant, Marla. Marla is around to be Katelyn's sounding board as well as give her some pushes in the right direction.
The book has a lot of sex and cursing, so be warned. It's also got some endearing moments, especially the memories of Mark's father. The story revolves around a wedding, so it's filled with family and friends. Vivid descriptions of the town make you feel as if you're there. There story has a nice flow and wonderful closure. I especially liked the epilogue (as told by Mark). I can't wait to read Luke's story which must be next.
Lauren Landish is a new-to me-author, only having previously read the first book in the series, BUCK WILD. I look forward to reading more of her books.