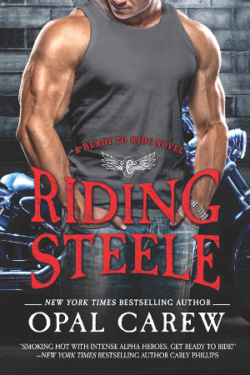 Author

Opal Carew

Release Date

March 17, 2015

Publisher

St. Martin's Griffin

ISBN/ASIN

978-1250052841

Our Rating

Reviewed by

Chrissy
Our Review
Breaking up with a boyfriend should have been simply a parting of ways. Maybe a few tears. But for Laurie it becomes a terrifying moment in which she's almost raped, offered to a motorcycle gang for a gang bang, and then kidnapped. She should be terrified, and initially she is, but she quickly discovers that Steele doesn't tolerate abuse to women. Especially one who's in his protection.
What he can't figure out is how she came into his possession, since he'd explicitly decided that Laurie was not to be kidnapped, despite what her brother had requested they do. Now he's duty bound to protect Laurie at all costs – all while denying his own physical attraction to her. Oh what the heck. Let the games begin – as long as the lady's willing.  The rest of the gang is certainly more than ready to include her in their happy little makeshift family.
RIDING STEELE is the third addition to Opal Carew's READY TO RIDE series. And yes, it just as sinfully erotic as the title sounds. This story is full of passion, suspense, a whole lot of frustration, and plenty of heart. Somehow when you think of bikers you only see the rough aspects. But Ms. Carew humanizes them so that you see the man underneath the rough exterior. Laurie simply got mixed up with a loser in an expensive suit, so you have to feel bad for her and yet thrilled when she opts to take a walk on the wild side with Steele and his gang.  
RIDING STEELE is a fun and thrilling erotic romance complete with menage scenes. Despite the sharing, though, there's no doubt in the reader's mind who possesses Laurie's heart.
So far Opal Carew's READY TO RIDE series consists of four stories (which can all be read as stand-alones.) So grab a copy of one of the sinful reads, a cool drink, and sit back and get ready to live vicariously through Laurie's naughty experience.
HOT RIDE
WILD RIDE
RIDING STEELE
and HARD RIDE