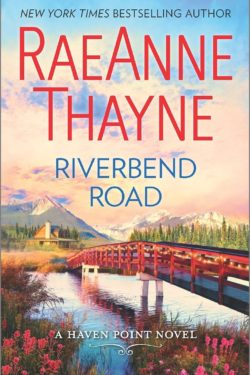 Author

RaeAnne Thayne

Release Date

June 21, 2016

Publisher

HQN Books

ISBN/ASIN

9780373789832

Our Rating

Reviewed by

Dorine
Our Review
RIVERBEND ROAD by RaeAnne Thayne brings us back to Haven Point and its small town niceties. A welcoming community, Haven Point is a great place for newcomers. The main characters outdo themselves this time by helping a woman and her children find a place to belong after they've been living in fear. Easily read as a standalone, RIVERBEND ROAD will entice you to read the next couple's story.
Police officer Wynona "Wyn" Bailey rushes to the scene of an emergency called in by her great aunt, only to realize the woman is in a stand-off in her driveway with a baby moose and the mother protecting him. Great Aunt Jenny isn't in any immediate danger, as long as she stays in her convertible, which isn't likely to happen if that moose keeps eating her prized flowers.
Such is life in a small town for a police officer most of the time. That is until Chief Cade Emmett orders Wyn to stand down in a fire situation to await the fire department and she ignores him in order to save two little boys. The chief suspends Wyn for seven days for disobeying an order, even though the town feels that's a bit harsh. Wyn tries to convince Cade to lessen her punishment. He resists, but neither of them can resist the kiss that has been burning unrequited for some time.
Wyn loves her town, but she's unsure if she still loves being a cop. Wyn is from a family of law enforcement with the on-duty death of her twin brother and father always reminding her and her mother of the dangers on the job. Now Wyn has the attraction to her chief to deal with, and she's beginning to think she will be better off doing something else in another town.
Fans will recognize author RaeAnne Thayne's signature small town sense of humor within the first few chapters. I always love those moments that make me laugh-out-loud and the Haven Point "rumor mill" is worth a good chuckle.
Wyn has a heart of gold and seems to get herself into one situation after another because of her passion. Her dog is a great sidekick and adds some fun. Wyn's relationship with her mother is unbalanced and overbearing, adding frustration, until Wyn begins to understand her mother's side.
It took me a long time to warm up to Cade. He seemed emotionally removed from Wyn and unable to commit for various reasons. He finally got his act together, but his reasoning frustrated me. Once I understood his backstory, his actions made more sense.
I'm a huge fan of author RaeAnne Thayne's HOPE'S CROSSING and HAVEN POINT series, but this novel moved a little slow for me. The only thing that I can pinpoint is that there seems to be an overage of internal dialogue with Wyn and Cade each hashing out within themselves why they should or shouldn't be together. I felt there was too much thinking going on instead of moving the story forward with action.
I related easily with Wyn's love of hiking through the mountains near Haven Point. I could easily see myself hiking those same paths. RaeAnne Thayne's descriptive clauses are always spot-on, increasing my ability to enjoyably visualize her world.
There's also an excellently portrayed, creepy villain who is as slimy as I expected. Wyn is pretty clever in the way she reacts to him. It's one of my favorite scenes.
If you haven't read the rest of the HAVEN POINT series yet, be sure to read my reviews of REDEMPTION BAY and EVERGREEN SPRINGS.
I'm especially excited about reading SNOWFALL ON HAVEN POINT, book 5, due to release September 27, 2016. You'll meet Andrea and Marshall in RIVERBEND ROAD and know why I'm anxious for their story. I have my advanced review copy of the next story in hand, so it won't be long before I immerse myself back into the world that speaks to my heart.