Rocky Mountain Cowboy Christmas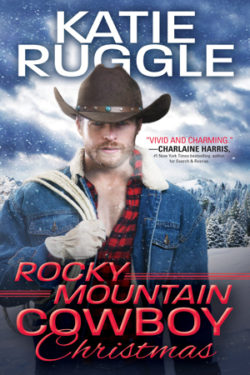 Author

Katie Ruggle

Release Date

September 25, 2018

Publisher

Sourcebooks Casablanca

ISBN/ASIN

B07CP3ZW71

Our Rating

Reviewed by

SJ
Our Review
Katie Ruggle is a go-to for small-town, romantic suspense with complex characters and intriguing mysteries. Ruggle has done it again with her newest romantic suspense, ROCKY MOUNTAIN COWBOY CHRISTMAS.
Steve Springfield, firefighter and single dad, was introduced in the Rocky Mountain K9 series, and I'd thought he'd be the last book in that series. Instead Ruggle introduced a female officer in THROUGH THE FIRE. The heroine in this story, like the hero in THROUGH THE FIRE, has a few personality quirks which endear her to the reader.
Steve moved from a dangerous Monroe, Colorado to settle back at home, working with his brothers at their Colorado Christmas Ranch, a family-owned business. Steve works as a volunteer firefighter and fulltime dad. His wife passed years ago, and he's doing his best to raise four children on his own. At the ranch, he figures his family will be safe and cared for.
Camille Brandt is an artist and anti-social. It's not that she doesn't like people, but she doesn't feel comfortable in social situations. She remembers Steve though, since she had a major crush on him back in high school. He's just as handsome and kind as she remembers, and she's just as awkward around him.
As some strange occurrences happen, and some fires start springing up during the holiday season, Camille grows closer to Steve and his family. But danger is stalking her happiness, and the culprit is closer than anyone thinks.
Ruggle is a master at building suspense and hiding the villain until the very end. I wondered but wasn't sure who was guilt. The romantic tension was perfect, two different people reconnecting and building a sweet, believable romance. That the children are an integral part of the plot only made the romance richer. 
An outstanding romantic suspense set at Christmas that will warm your heart. Don't miss ROCKY MOUNTAIN COWBOY CHRISTMAS. 
A Recommended Read!
For more outstanding suspense, check out Katie Ruggle's books.
ROCKY MOUNTAIN K-9 UNIT SERIES: 
Run to Ground (Book 1)
On the Chase (Book 2)
Survive the Night (Book 3)
Through the Fire (Book 4)