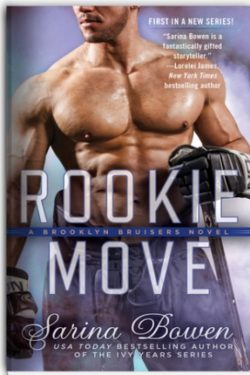 Author

Sarina Bowen

Release Date

September 6, 2016

Publisher

Berkley

ISBN/ASIN

978-0399583438

Our Rating

Reviewed by

Jill D
Our Review
Rookie Move is the first book in a sports (hockey) romance series featuring characters we briefly met in the author's previous works. This series is a spinoff though and can completely stand alone from The Ivy Years. Six years ago, Leo Trevi was in love with his long term girlfriend, Georgia Worthington, when she broke up with him at their high school graduation. After loving her for two long years and overcoming some very tough obstacles, Leo was shocked and saddened that Georgia could just drop him like a bad habit.
He has had six years to come to terms with her decisions. Leo Trevi just got called up to the NHL to play hockey for the Brooklyn Bruisers. When he arrives at the offices of the owner and hears the new head coach ranting about Leo's being hired, he is determined to keep a positive attitude–until he realizes exactly who it is doing all that yelling. Coach Worthington, otherwise known as Georgia's father, is the new head coach of the Bruisers, and he is also the man who hates him with the fire of a thousand suns (for reasons unbeknownst to him.)
If that isn't awkward enough, the team's interim public relations manager walks into the meet and greet. And it's none other than a grown up, more beautiful version of the Georgia he fell in love with all those years ago.
I absolutely loved this second chance romance that addressed real and difficult issues but still kept the characters captivating and so charismatic you are rooting for them to make it to their happily ever after. With this just being the start of a new series I can't wait to see what's in store for the Bruisers next. Sarina Bowen has long been a favorite author of mine, and this book just proves why she is one of the best.
 A RECOMMENDED READ!