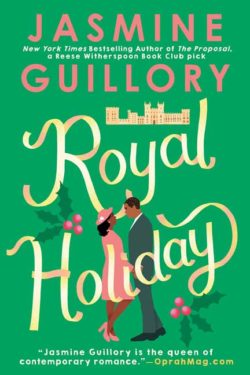 Author

Jasmine Guillory

Release Date

October 1, 2019

Publisher

Berkley

ISBN/ASIN

9781984802217

Our Rating

Reviewed by

Jo
Our Review
ROYAL HOLIDAY is the fourth book in THE WEDDING DATE series, and this time we're off to England from not-so-sunny California. Maddie has a job filling in as the stylist for the Duchess and has to go to England to fulfill her obligation. Maddie jumps as the chance and brings her mother, Vivian, along with her since they will be gone for Christmas. 
Their trip is a whirlwind. While her daughter is working, Vivian is being entertained by Malcolm, the Queen's private secretary, after a chance meeting in the kitchen of the cottage where they are staying. There's an instant attraction between them, and it's lovely watching them get to know each other.
Malcolm is very thoughtful and always has Vivian's best interests at heart. He wants to make her first visit to England very memorable in more ways than one. The interactions between the characters were terrifically fun, and it all seemed real. The author brought England alive with her vivid descriptions. The reader gets to play tourist with Vivian and watch her enchantment with all things English, especially with Malcolm as her tour guide!
The story seemed choppy at times but overall was an enjoyable read. I wish some of the previous characters we've met had at least a small role in this book, but that in no way took away from the romantic storyline. There is nice closure especially with the epilogue which takes place nine months after the story ends.
I've read all four books in the series and hope there will be more. I look forward to reading what Ms. Guillory writes next.