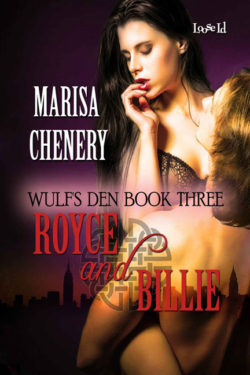 Author

Marisa Chenery

Release Date

July 11, 2016

Publisher

Loose ID

ISBN/ASIN

B01IBVXKD8

Our Rating

Reviewed by

AngelaG
Our Review
In Marisa Chenery's third book in her Wulf's Den series, ROYCE AND BILLIE, after getting a call from her sister-in-law to track down her brother, Billie York heads to Wulf's Den to drag his drunken butt back home. Finding him is easy due to her gift of being able to find anyone. Having Royce Larrsson try to come to her rescue in corralling her brother opens instant feelings of lust. Billie has never been one to back down from a challenge, so the more Royce runs, the faster she pursues. If he tells her that he doesn't want her, then she will stop. But when he looks at her with such hunger, she is willing to push some boundaries to let him know that she wants him just as badly.
Royce Larrsson has seen centuries come and go, but then a werewolf could live for thousands of years. He is happy spending his time with his adopted daughter Belinda and her daughter Roxie. He doesn't mind being alone anymore, because being alone means he can't be hurt when his mate is taken from him. Having gone through that once, he definitely doesn't want to go through that again, and not with Billie since she's mortal. But the mating urge is very strong, and he's not sure he can fight it. Having Billie continue her pursuit of him doesn't help either.
No longer able to fight the attraction, Royce gives into his urges and starts his own pursuit of Billie. But there is another werewolf with a grudge against Royce, and that wolf is determined to make Royce pay before destroying him. The first step is to go after the mortal that Royce has taken interest in, and the other is to use Royce's blood to complete the spell to turn someone into a werewolf. Unfortunately, Billie's brother was taken, and when Royce comes up missing, Billie makes a decision to ensure her future with Royce–even if it means destroying the person who has taken him, once and for all.
ROYCE AND BILLIE is the third book in the wonderful Wulf's Den series by Marisa Chenery, and the books just keep getting better. I loved Billie. She is a completely no-nonsense heroine that doesn't need the hero to rescue her. She says what she thinks and takes care of business. Royce is no slouch either, but he is letting the past influence his future. Then bam! Instant alpha violence commences with Royce's dangerous blast from the past, and you see exactly what Royce is willing to do too keep Billie safe, which makes him uber sexy! I was pulled into the story and really enjoyed it from the beginning to the end.