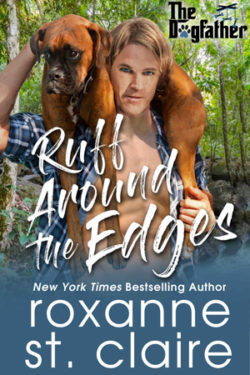 Author

Roxanne St. Claire

Release Date

April 12, 2018

Publisher

South Street Publishing

ISBN/ASIN

9780999362112

Our Rating

Reviewed by

Raonaid
Our Review
U.S Army Night Stalker Major Aidan Kilcannon returns home to Bitter Bark, North Carolina, a hollow and lost man. He moves heaven and hell to bring his deceased friend's boxer Ruff to the United States. Aidan, however, discovers Charlie's younger sister has an equal claim to the dog. He helps Rebecca save the pizza place her brother intended to inherit from their uncle. In the process, the optimistic woman helps Aidan discover where he truly belongs. Will Aidan find his place at Waterford Farm? Will that future include Becca and Ruff?
Rebecca "Becca" Spencer owns a baby photography business in Chicago, Illinois. She temporarily stays with her aunt and uncle to try and salvage their failing pizza business. Becca anticipates the day the Kilcannons deliver her late brother's dog Ruff. Yet, Aidan Kilcannon, her brother's best friend, is reluctant to hand Ruff over. The sexy pilot confounds Becca by offering to help find her uncle's secret pizza ingredient. Can Aidan help Becca save her uncle's pizza place? Or will she lose her heart and her dog to him?
Aidan is, hands down, my favorite Kilcannon. He is often referred to as 'the Golden Boy' by his family due to his good fortune. The death of his childhood friend and fellow Night Stalker leaves him floundering. I love how, despite how lost he feels, Aidan still ready and willing to help his family with whatever they need. I adore the fact that his first dog was a dachshund named Doxie. But, what I like the most about Aidan is how he wants to help Becca overcome her hang-ups, waiting patiently instead of pushing her.
Rebecca is such an easy heroine to like. She is no stranger to loss, having lost both her parents and older brother. I admire how, despite that, Becca manages to remain optimistic and positive. I like her 'never say die' attitude about her uncle's recovery and saving his beloved pizza business. Becca willingly bends over backwards to help her remaining family members. I also like how she takes Ruff's rambunctiousness in stride without losing her cool. But, what I adore the most about Becca is how she aids Aidan into finding his place at Wateford Farm, his family's canine facility.
RUFF AROUND THE EDGES is book five in Roxanne St. Claire's doggy-contemporary series, THE DOGFATHER. I love how both Becca and Aidan want to honor Charlie's last wishes. It adds a poignant and sweet touch to the story. I especially like how a new Kilcannon makes their debut in this book.
RUFF AROUND THE EDGES is a heartfelt tale of two lost and troubled souls finding solace, healing, and love with each other. I wonder what the author has in store for the last Kilcannon sibling.
A recommended read!