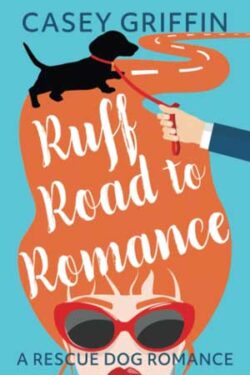 Author

Casey Griffin

Release Date

March 1, 2022

Publisher

Charming Frog Publishing

ISBN/ASIN

B09GLPGX32

Our Rating

Reviewed by

Raonaid
Our Review
Lily Baker is tired of being a doormat to her overbearing and selfish family. She impulsively travels to California under the pretense of visiting her aunt. Lily discovers a handsome stranger waiting to pick her up at the airport. She reluctantly agrees to help Ethan relocate his ailing mother from Seattle, Washington, to California. However, their impromptu road trip is fraught with mishaps and accidents. Will this trip be what Lily needs? Or will she return home in utter defeat?
Ethan Summers is Seattle's former golden boy attorney. He has never forgiven himself for choosing his career over his family. Before he can move to California, Ethan needs to settle some loose ends in Seattle and to collect his mother. When Lily is volunteered to accompany him, he promises to make the trip worthwhile. However, things do not go exactly as he planned. Not to mention some dachshund puppy hijinks. Will Ethan and Lily survive their road trip? Or will Ethan find something equally precious along the way?
Lily is a heroine I easily relate to. She is a pushover, a people pleaser, who does not have much confidence in herself. I empathize with Lily's feelings. I understand how it feels to have family who walk all over you and disregard your thoughts and opinions. It can be dispiriting. What I admire the most about Lily is her willingness to change. She no longer wants to be at her family's beck and call or have them take advantage of her nature. Instead, Lily wants to live her own life free from such handicaps.
Ethan is such a great redeemable hero. I admit that I never cared for his snobbish behavior in the first book, PAWS OFF THE BOSS. However, at the end of book three, A WEDDING TAIL, it became obvious that Ethan was slowly changing. I love how he wants to mend the rift between himself and his sister. Ethan regrets not being there when Piper needed him the most. What I adore the most about Ethan is his faith in Lily. He wants her to have more faith in herself. Ethan knows when to push and when to draw back.
RUFF ROAD TO ROMANCE is the fourth book in Casey Griffin's dachshund-themed, contemporary series, A RESCUE DOG ROMANCE. This story can easily stand alone. But I highly recommend reading the previous three books, especially PAWS OFF THE BOSS. The first novel emphasizes the tenuous relationship that the Summer siblings have. I am so stoked that the author wrote more in this fun and entertaining series! Molly, the dachshund puppy, stole the show. She reminds me of the fun times I had with my doxies at that age!
RUFF ROAD TO ROMANCE is a hilarious tale of two people's misadventures, which leads them to discover not only themselves but love. I cannot wait to see what else this author has in store for this series! There are never too many dachshund-related stories!
A recommended read.