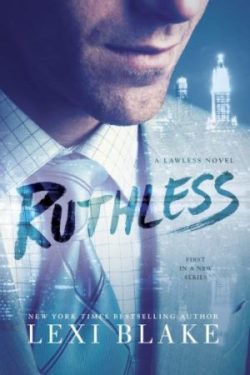 Author

Lexi Blake

Release Date

Publisher

Berkley

ISBN/ASIN

0425283577

Our Rating

Reviewed by

Chrissy Dionne
Our Review
The Lawless siblings' lives were changed forever when their parents were murdered twenty years ago. Now all grown up they're hell bent on revenge against the people responsible for their deaths and Riley believes he knows exactly how to achieve their goal.   In a bid to expose Phillip Stratton's crime, Riley, the middle brother, takes on the position of attorney for StratCast and begins a seduction of Ellie, Phillip's only daughter.  Unfortunately he never anticipated falling in love with Ellie or prepared for the emotional fallout associated with trying to figure out a way to prove her father's guilt without losing Ellie's love and trust.  Ellie is busy trying to run her father's company and right the wrongs she knows he did during his lifetime so she's completely oblivious to the manipulative and betraying behavior going on around her.
While RUTHLESS is the first title in Lexi Blake's LAWLESS series, it is a spin-off of sorts from the MASTERS AND MERCENARIES series (Mia, the youngest of the Lawless siblings, story was told in DOMINANCE NEVER DIES).   With vengeance, betrayal, deep dark secrets, passion and hurt spiraling throughout the storyline readers can't help but become intrigued by Riley and Ellie's tumultuous relationship.   It's extremely easy to empathize with the Riley and Ellie and their situations and at times it seems that their missions are at odds with each other but maybe that's because they're so secretive about their own plans.  Romantically they're a great couple who simply didn't have time to cement a relationship before chaos ensues and threatens to destroy everything.  I genuinely enjoyed Riley and Ellie's story and definitely look forward to Drew and Brandon's stories – and will have to go back and read Mia's as well since I loved 'meeting' her and her husband, Case.  
This is definitely an author and series you should add to your TBR pile.
RUTHLESS is the first title in the LAWLESS series. Book 2, SATISFACTION is due to be released January 9, 2017. And Book 3, REVENGE is slotted for release on June 20, 2017