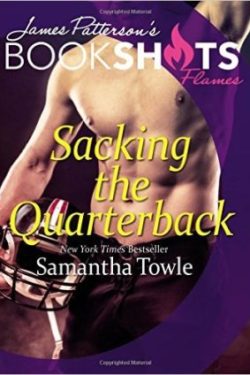 Author

Samantha Towle

Release Date

September 6, 2016

Publisher

Book Shots

ISBN/ASIN

9780316276580

Our Rating

Reviewed by

Jo
Our Review
SACKING THE QUARTERBACK is part of JAMES PATTERSON'S BOOKSHOTS FLAMES books which are quick reads.  The book, at only one-hundred and forty four pages, is about Grayson, a professional football quarterback arrested on a charge of drug possession with intent to sell, and Melissa, or Mel, the Assistant State Attorney who is told by her boss to get a conviction and make an example of him, but will she?  Tyler, Grayson's younger brother, has a major role in the story and his life is definitely out of control.  Melissa takes her job seriously but something doesn't sit right about the arrest and she won't be happy until she figures out what's really going on.  It doesn't help that she feels an attraction to Grayson the moment they meet, at the police station no less.
There are family and friends, cops, drugs, burn up the sheet moments, chemistry, worry, anger, fear, secrets and quite a few twists and turns to the story.  There is some closure with the epilogue taking place six months later but I wanted more since the book from the first page to the last only took me about an hour to read.  There is a happily ever after in the offing. 
Towle is a new to me author and I look forward to reading more of her contemporary romances hoping that they are a little longer.  I have read some of the BOOKSHOTS FLAMES books previously and enjoyed them so I came back for more and look forward to reading others that are out or that will be out soon.