Santa Paws is Coming to Town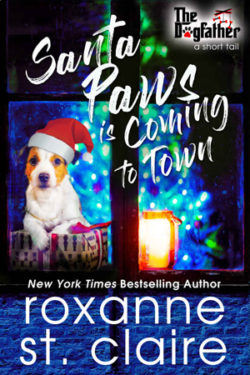 Author

Roxanne St. Claire

Release Date

November 17, 2017

Publisher

Amazon Digital Services LLC

ISBN/ASIN

B0779D7HD1

Our Rating

Reviewed by

Raonaid
Our Review
Daniel Kilcannon is renowned as "The Dogfather" in his community. He is a retired veterinarian who owns the largest canine rescue and training facility in North Carolina. He cannot escape his melancholy this Christmas season. When a newly rescued pup disappears somewhere on the farm, the Kilcannons put their festive celebrations on hold. They search everywhere for the poor, frightened puppy. Will the Kilcannons find the lost puppy? Or will the puppy bring the Dogfather a surprise holiday miracle?
I love everything about the Kilcannon family! They are the epitome of what a family should be. The Kilcannons have their fair share of ups and downs, but they stick together no matter what. Daniel is a doting father who wants his grown children to experience what he did. He may not have gotten over his wife's passing, yet he soldiers on for his children's sake. I admire him for his selflessness. But what I like most about Daniel is how his emotions take a backseat when a frightened puppy's safety is at stake.
SANTA PAWS IS COMING TO TOWN is book 3.5 in Roxanne St. Claire's dog-themed contemporary series, THE DOGFATHER. I love how the story is not centered on just the Kilcannon patriarch but on the entire family. I adore how the author gives us glimpses into the previous couples' happily-ever-after and sets the theme for Molly's upcoming book.
SANTA PAWS IS COMING TO TOWN is a quick yet sweet, dog-orientated Christmas story. I generally do not read too many Christmas-themed stories, but this book really touched my heartstrings. I hope the author plans to write a spin-off series about the Kilcannons' Mahoney relatives.
A Recommended Read