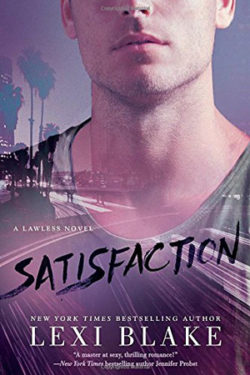 Author

Lexi Blake

Release Date

January 3, 2017

Publisher

Berkley

ISBN/ASIN

978-0425283585

Our Rating

Reviewed by

Chrissy
Our Review
Brandon 'Lang' Lawless, along with his siblings, has a lifelong mission to make the people responsible for their parents' deaths pay for their crimes. The plan has hit a small snag. It seems Brandon's opposed to putting their target, Patricia Cain's, personal assistant, Carly Hendricks, in harm's way– and he has no doubt that anyone in close proximity to Mrs. Cain would be in danger.  Rather than follow his brother's dictates to use Carly to further their cause, Brandon decides to explain his situation to her and ask her to aid their cause. 
Carly's been through her own personal hell. Her ex-husband's in prison for embezzlement.  She has a job and employer she despises but can't quit because doing so might mean her sister goes to jail.  And if that's not enough, associates of her ex-husband are coming after her expecting her to cover his debts.  She doesn't have time or any real interest in dating and certainly doesn't feel the man the dating site paired her with is her 'ideal' match, but then she meets Brandon and can't deny the attraction between them even as she questions the wisdom of helping him take down her boss.
Lexi Blake's LAWLESS series is my latest "have to read" series. I'm completely captivated by the Lawless family, their dedication to making their parents' killers pay for their crimes, and the brothers' struggles with finding love at the same time they're enacting vengeance.  Readers are sure to fall in love with Brandon and Carly as they join forces to uncover the truth behind Mrs. Cain's involvement in what happened to Brandon's parents.   I loved how Brandon and Carly's romantic relationship developed and there's a scene where she confronts his brothers about their amorous activities that had me laughing out loud and really endeared her to me.  Gotta love a gal who knows what she wants and goes after it despite the risks!  There's tons of sexual tension, humor, suspenseful moments, characters you'll love – and those you'll love to hate, all neatly encompassed in a story impossible to put down.  SATISFACTION is probably one of the most thrilling stories I've read in a very long time.
I confess I'm really excited to read the next installment in this series, REVENGE. Drew and Carly's friend, Shelby, have a love/hate thing going as they battle it out in the tech world.  He's trying to bury information about his family and she's just as determined to find every scrap of information she can.  Their story is sure to be epic!
A RECOMMENDED READ
The LAWLESS series:
RUTHLESS
SATISFACTION
REVENGE – release date June 20, 2017