Saved by the Firefighter - Templeton Cove #6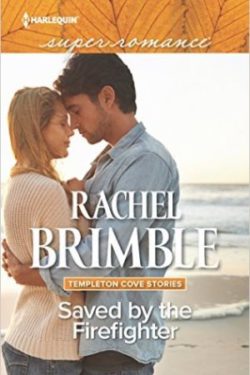 Author

Rachel Brimble

Release Date

November 1, 2016

Publisher

Harlequin SuperRomance

ISBN/ASIN

9780373610112

Our Rating

Reviewed by

Jo
Our Review
This was a quick read even though I've only read book five so far in the series, HER HOMETOWN REDEMPTION.  I have the first four books to catch up with and the author posted on her website that we'll be seeing at least three new books in this series in the new year.  I, for one, can't wait!
There was some darkness in the story line as well as light.  Izzy's moods and feelings are all over the place and who can blame her?  If she doesn't get herself settled down she'll never be able to love again, be happy or see lightness instead of darkness.  Trent has loved her almost since the first day they met four years ago.  He was her brother Robbie's friend and they hit it off immediately.  She's an artist and he's a firefighter.  Due to an earlier tragedy in her life, Izzy isn't sure she can be with Trent since he puts his life in jeopardy each day he goes to work. When they are together they have burn up the sheet moments but neither one wants just that in a relationship.  It's not only Izzy that's having doubts though.
The characters are multidimensional and there were a lot of twists and turns to the story. Maya, was an integral part of the story even though she's a young child.  Richard Crawley and his agent were two characters that gave me a bad feeling from the start.  There are family and friends – some whom are estranged, hopes, dreams, fear, tears, anger, sorrow, running away, hurt, laughter, happiness, lots of loving and love.  There is nice closure with a happily ever after in the offing.  The book is set in England and some of the words used were native to the country.
Brimble is an author that I've previously read and enjoyed so I have added many of her other books to my always growing TBR pile!