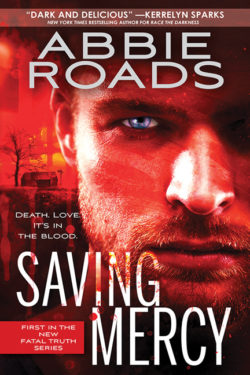 Author

Abbie Roads

Release Date

April 4, 2017

Publisher

Sourcebooks

ISBN/ASIN

B01M5DIQ2Q

Our Rating

Reviewed by

SJ
Our Review
SAVING MERCY by Abbie Roads is a dark romantic suspense and the beginning of Roads's new FATAL TRUTH series. A chilling tale of obsession, murder, and love that surpasses the darkness in all of us, SAVING MERCY is a must-read.
Cain Killion is the son of an infamous serial killer, and it doesn't help that he's the spitting image of the man. Or that Cain has paranormal abilities tied to blood. He helps the FBI catch killers, hoping to atone for his murky past. Unfortunately, his father left more victims than just Cain, and Cain finds out he needs the help of the one girl–now a woman–who survived. Mercy Ledger.
Ever since the trauma of losing her entire family to a sadistic killer, Mercy has been able to tell dark secrets about people. She knows if they mean harm. And the sanitarium in which she's been placed is a very dangerous place for her, because the doctor treating her isn't quite…right.
So begins a fast-paced story of brewing danger, passion, and intrigue. The book has twists and turns that kept me on the edge of my seat. The characters have been through hell and back but find redemption in each other. I like that though victims, Roads's characters persevere. The thread of paranormal entwined with the plot make the story that much richer.
SAVING MERCY is another winner from Abbie Roads. If you want spine-tingling, dark romance with paranormal elements, then this book is one you won't want to miss.