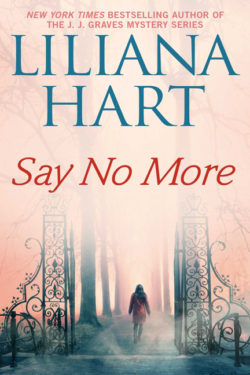 Author

Liliana Hart

Release Date

July 25, 2017

Publisher

Pocket Books

ISBN/ASIN

978-1501150074

Our Rating

Reviewed by

Lil
Our Review
SAY NO MORE is the exciting third installment of the Gravedigger series. The team member brought to the fore is suave and civilized Dante Malcolm. He is previously of Britain's MI6 and, unknown to his brethren, had led a double life as the infamous art thief, Simon Locke. Even with a background of privilege, it was his need for challenge and the adrenaline rush that fueled his dual choice in careers. It was the subterfuge of one of those careers that made him vulnerable to being recruited for the super-secret covert organization known as the Gravediggers. 
Liv Rothschild is a detective inspector with Interpol. She is also a woman whose career was in tatters when she witnessed her lover's death. She discovered that he was one and the same as the thief she had been hunting for two years. Dante/Simon shook her faith in her abilities and herself. Her career recovered, but she finds herself going it alone when she makes it her mission to save a group of young girls kidnapped for the purpose of sex trafficking.
Romance had come to Dante unexpectedly in the form of the woman trying to catch his alter ego. With his "death" then rebirth as a Gravedigger, all ties had to be left behind. Yet the ache for Liv has lived on. His skills as a prominent thief mean that he is tasked with some jobs in the organization that are kept from the rest of the team. It is also the means for giving him the excitement he needs as much as he needs breath.
When one of those special jobs, recovering extremely sensitive information in order to avert international tragedy and mayhem, brings him face-to-face with the woman he loves, can he steal her heart and find happily ever after?
Liliana Hart takes care to lay a good foundation for her hero and heroine. She makes it easy for readers to understand how the characters have become who they are and give us the reasons why they are driven in what they do. Dante is not given an easy pass for the devastation and grief he has caused Liv. Well, there may have been a short period of enthusiastic physical catharsis by both characters at an inexplicably inconvenient time, and it may even make one blink in incredulity, but if you suspend disbelief, it's hot!
The members of the Gravediggers are less than happy to learn that they have been kept in the dark regarding Dante's extracurricular activities. However, the portrayal of affront will keep you chuckling. The heroines from the previous stories, THE DARKEST CORNER and GONE TO DUST, continue to entertain with their quips and their pluck in this story.
SAY NO MORE can be read as a standalone tale, but really, why stop at just one?