Scandal at the Christmas Ball: A Governess for Christmas\Dancing with the Duke's Heir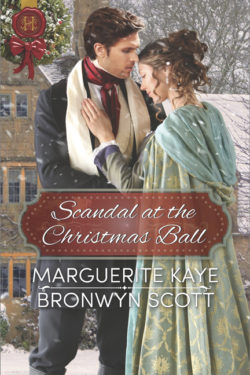 Release Date

December 1, 2017

Publisher

Harlequin Historical

ISBN/ASIN

9781488021916

Our Rating

Reviewed by

Jo
Our Review
SCANDAL AT THE CHRISTMAS BALL involves two historical novels written by two different authors that are connected by the Brockmore Manor House Party, its hosts and guests once again at its core. The book is set in England in the early 1800's during the Twelve Days of Christmas. There are the same events, locations, and characters highlighted in both stories, but the stories have different characters front and center. I really like the cover. My only criticism is that Joanna and Drummond from A GOVERNESS FOR CHRISTMAS are almost non-existent in DANCING WITH THE DUKE'S HEIR.
Marguerite Kaye's A GOVERNESS FOR CHRISTMAS has an odd mix of characters that need an introduction to society and are for the most part looking for a mate–even if they don't realize it. There are a lot of interactions between the characters but Joanna, a governess with a scandal in her past, and Drummond, a disgraced former military figure, have immediate chemistry. Both need the Brockmore's help in order to save face and get on with their lives, but neither one knows if that's what they really want their next step to be. Watching them partake of some scandalous behavior was oftentimes fun and at other times had me shaking my head at the chances they would take.
The descriptions made me feel like I was there. I could smell the greens and the foods and also feel the cold from all the outdoor activities. The storylines intertwined nicely, and we got to know the various characters. The Christmas and holiday traditions were a nice touch as we learned what activities were planned for each day. There was a Scottish feel to the story, in part due to Drummond being Scottish. It was a nice addition since we learned of some of his traditions in addition to the English ones. There are a few twists and turns to the story with a happily-ever-after and nice closure.  http://www.margueritekaye.com
Bronwyn Scott's DANCING WITH THE DUKE'S HEIR takes place during the same time period but has Viola, known as London's Shocking Beauty, who has no interest in being shackled to a man through marriage, front and center. She's definitely an independent woman who was born before her time, and her reputation precedes her! Vale is Brockmore's nephew and his heir but has no interest in an arranged marriage. He wants it to be a love match,  and even though he's thirty he's in no rush. When Viola and Vale meet, sparks fly. But they're not all of the happy variety since he feels she's not acting appropriately at all, especially by putting herself in danger. Vale actually scolds her.  From there things really get interesting since neither of them are what they seem. They hide their true selves behind a facade. It was interesting to see Vale's interactions with his uncle, the Duke of Brockmore, who was very serious at times but also all-knowing, which didn't sit well with Vale at all.
The story was filled with a gamut of emotions: laughter, anger, sorrow. But most of all love, and there was a definite steaminess to the story. The epilogue tied up most of the loose ends and gave closure with many happily-ever-afters due to the pairings that came to be, some that even the Brockmores didn't expect when they sent out their party invitations!  I hope we get to return to Brockmore Manor many more times.
http://www.bronwynnscott.com/
Kaye is an author whose books I have enjoyed and always look forward to see what she writes next. Scott is a new-to-me author, having only read her story in SCANDAL AT THE MIDSUMMER BALL. I look forward to reading many more books written by both of them and hope they continue to collaborate. I also enjoyed the author note that they penned at the back of the book.