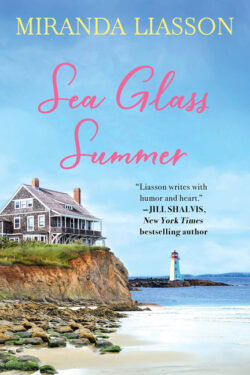 Author

Miranda Liasson

Release Date

June 28, 2022

Publisher

Forever

ISBN/ASIN

9781538736272

Our Rating

Reviewed by

Jo
Our Review
SEA GLASS SUMMER is the second book in the Seashell Harbor series and picks up where we left off with COMING HOME TO SEASHELL HARBOR. (Note, this can be read as a stand-alone romance.) 
Kit is a widow whose husband died while in the military. She's raising their five year old son, Ollie, with the support of her parents and close friends. Her husband's best friend, Alex, returns to their hometown after his service. He's there to fulfill promises to her husband she wants no part of it…or does she?
I love that characters we've met before are back and we see what they are up to now and how life is treating them. There is a good flow to the story and some unexpected twists while other turns are predictable. Ollie seems to warm everyone's heart, and everyone is there to support him. Kit is doing her best to get her life together, but her parents aren't always on board. Be prepared to read about a lot of animals, which add warmth and humor to the story.
SEA GLASS SUMMER is full of emotion—grief, love, pain, and redemption. Family and friends are there to shore up the protagonists, and that coming together to support one another is key to this story. The heartfelt conversations between the characters brought a tear to my eyes at times. The epilogue gave closure along with hints of what's to come in the next book in the series. I can't wait!
Ms. Liasson writes heartwarming contemporary romances, some like this one with a beachy flair. Give her books a try if you haven't already.