Second Chance at Two Love Lane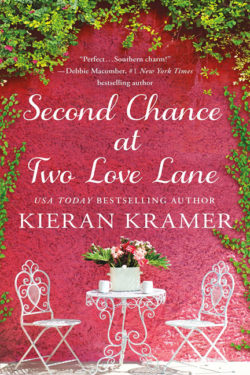 Author

Kieran Kramer

Release Date

August 28, 2018

Publisher

St Martin's Paperbacks

ISBN/ASIN

9781250111081

Our Rating

Reviewed by

Jo
Our Review
SECOND CHANCE AT TWO LOVE LANE, the third book in the TWO LOVE LANE series, was a little slow getting started for me. It took me a while to warm up to the characters of Ella and Hank, but once I did I was all in! Ella is Sicilian, and her large family transplanted from New York to Charleston after she had moved there. Her family plays a big part in the story, and I could relate to all things Sicilian, Italian, and New York since that's my background as well.  
Ella and Hank had dated for ten years, when they were both auditioning for roles in New York. Back then, she had turned down a chance at a role that would have taken her out of the country because she felt Hank and she had a future together. Wrong! Hank told her that he just signed on for a role and that was that.
Even though they loved each other, they went their separate ways, knowing they had to put their careers first in order to be successful. Ella's dad always told her to put herself first, even though she ended up not taking his advice. Hers and Hank's paths intentionally cross ten years later in Charleston, and boy is Ella surprised. The love and attraction is still there, but now Hank's a movie star with lots of movies under his belt and more commitments over the next several years that will take him all over the world. In hindsight, how does Ella feel knowing she gave up her dreams and what might have been, for Hank? 
There's the one step forward and two steps back approach during their week together, filled with a lot of emotions and reminiscing, and even a ghost or two. Hank's cousin, Pammy, who just relocated from the west coast to Charleston, becomes friends with Ella. There are some funny moments involving not only the three of them but Ella's family too, especially her two grandmothers.
We reconnect with the others we've met at the matchmaking service on True Love Lane, but in this book they take a back seat. The descriptions of everything Charleston and southern made me feel like I was there. There was a nice flow to the story, as well as interweaving plots going on that tied in nicely together. There was a happily ever after and some closure, but also some loose ends which I hope will bring us to more stories in the series.
Ms. Kramer is a new to me author only having read the previous two books in this series, CHRISTMAS AT TWO LOVE LANE and A WEDDING AT TWO LOVE LANE.  I look forward to reading more of her books.