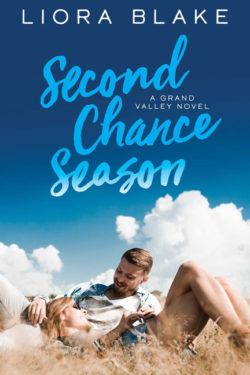 Author

Liora Blake

Release Date

June 20, 2017

Publisher

Pocket Books

ISBN/ASIN

9781501175350

Our Rating

Reviewed by

Jo
Our Review
SECOND CHANCE SEASON, GRAND VALLEY #2, did not disappoint at all. What a great followup to the first book in the series, FIRST STEP FORWARD. It was nice to be reunited with some of the characters we've met before–Garrett, Whitney, and Cooper, among others. But we also meet new ones like Cara and her family and friends. All were multidimensional, and I didn't know which side of them I would see next.
The story flowed smoothly from start to finish, and I loved the happily-ever-after along with the closure I look for. There are enough loose ends that left me wanting to see what Cara and Garrett will be up to next.
Cara and Garrett had an unusual relationship. She's city, and that's the nickname he gave her (which I thought was cute), and he's country all the way. He has a depth to him that I didn't expect, and he was always there to help out his friends. Unfortunately, Garrett always seemed to tread lightly when it came to Cara and didn't know what he should feel or say since he always tried to figure out what she would think or feel. He got it wrong more often than he should have.
Cara had the same problem, which was odd considering she's a writer and interviews people as a  freelance journalist. She gets to know the people in rural Colorado when she lands there for an assignment but doesn't expect that she'll fit in and that it will start to feel like home. 
I liked the relationship she has with her sister and that he has with his mom. Both bring a realism to the story. There's a lot of hunting, farming, and dreaming that goes on along with relationships between family and friends. We learn about small town life and some of their trials and tribulations, especially when many rely on the land for their livelihood. The descriptions made me feel that I was there, and I can't wait to return.
I can't wait to read the third book in the series, READY FOR WILD, Braden's story. I had a feeling his story would be next, but I thought the title would follow the tradition of the first two books and have third in it somewhere! I am looking forward to its release this fall. Blake is a new-to-me author only having previously read the first book in this series. I look forward to reading more including the books in her TRUE series.