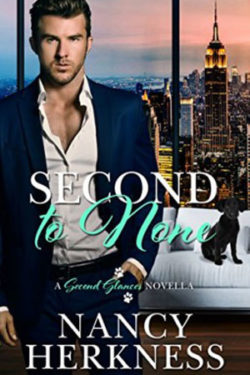 Author

Nancy Herkness

Release Date

September 12, 2017

Publisher

Montlake Romance

ISBN/ASIN

9781542097093

Our Rating

Reviewed by

Jo
Our Review
Wow! A lot was packed into this one-hundred and twenty-four page novella, SECOND TO NONE in the SECOND GLANCES SERIES, and I can't wait for more! My interest was held from the first page to the last. The story had a lot of heartwarming and heartbreaking moments.
The pets were a nice addition to the story with the K-9 Angelz, who would become pets to the kids at the center, and Mario, the injured dog rescued by Diego and the first K-9 Angelz, playing a major role. The Carver Center is a wonderful after-school program for underprivileged kids, and Emily is a dynamo as the director. Her board isn't too shabby either. When she and Max cross paths again, as she's looking for help from his foundation after having already been turned down for a grant by the director, the sparks fly. From there the pair reminisce, catching up and getting more involved than expected, given they've known each other for a short time seven years before.
The characters had a lot of depth to them. Diego, one of the kids, broke my heart. How he could be as warm and loving as he is given his background was amazing. Emily's daughter, Izzy, is a sweet and caring nine year old. There was a nice flow to the story with lots of Emily's and Max's history thrown in and some unexpected happily-ever-afters, not only the romantic kind. The epilogue was just what I needed. With so much packed into this novella, I can't wait to read the full length books in the series.
Herkness is an author I've read before, previously having read the first two books in the WAGER OF HEARTS SERIES. Since I enjoyed them, I jumped at the chance to read this book when it was offered to me. I'll be adding more of her books to my always growing TBR pile!
A RECOMMENDED READ!