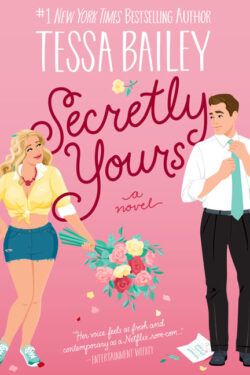 Author

Tessa Bailey

Release Date

February 7, 2023

Publisher

Avon

ISBN/ASIN

9780063238985

Our Rating

Reviewed by

Jo
Our Review
SECRETLY YOURS is the first book in the A VINE MESS series, and I look forward to reading more. Set in the Napa Valley, this is Julian and Hallie's story and it involves wineries and wine–of course.
Hallie is a gardener and landscaper who doesn't like schedules. Her life is chaotic with three dogs that she takes almost everywhere with her. She still misses her grandmother, who has died and with whom she lived and worked. Julian is a professor at Stanford and has taken a break to write a novel. He is nothing but punctual and lives by the clock. When their paths cross, there's a lot of chaos along with schedules and romance.
Julian and Hallie are nothing alike, but they do say opposites attract—they sure do! She remembers him from high school fifteen years before, though he has no recollection of her. Hallie has pined from afar for all those years and decides to secretly do something about that now. Their miscommunications are what romcom's are made of, in addition to his comedic, dysfunctional family that he's trying to make whole again. There are some laugh-out-loud moments as well that gives a lightness to the story.
I enjoyed getting to know the characters, including the secondary ones, which added another layer to the story. Communication is key, and Hallie and Julian definitely have trouble doing so especially when his schedules are disrupted by none other than Hallie, who is planting around the guest house he's occupying. But there's definitely chemistry, and when they finally act on it, there are steamy moments (and very rarely are they between the sheets.) 
SECRETLY YOURS has a good flow and is filled with angst, romance, and ultimately love in several different forms. There is closure, but do I wish the story went on just a little longer. I look forward to reading more in this series.
If you like some laugh out loud moments along with romance and some loving, give Tessa Bailey books a try.