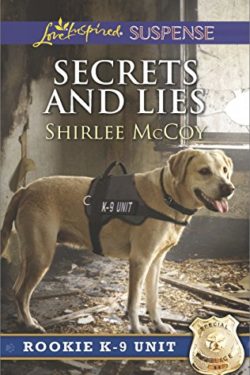 Author

Shirlee McCoy

Release Date

August 9, 2016

Publisher

Harlequin

ISBN/ASIN

0373447582

Our Rating

Reviewed by

Dottie
Our Review
After the death of her parents, Ariel Martin met and married her husband. She thought it would last a lifetime and she even went along with his extravagant lifestyle. But he left her for someone else. Shortly afterwards, she discovered she was pregnant. But when she told him, he threatened to get rid of the baby if she didn't. That was the first time she had been afraid of her husband. Within three weeks they were divorced. A month later, he died in a fiery car wreck. Wanting a fresh start, she left Vegas for Desert Valley, where she is now an eight months pregnant high school teacher.
Since his parents died, Tristan McKeller, a rookie K-9 officer, has taken on the task of raising his much younger sister, Mia. A smart girl, she used to bring home high grades and was a personable young lady, but now she is a sullen teenager who is making no effort with summer school. If she doesn't pass her English class, she will not be able to enter tenth grade in the fall. But no matter what Tristan tries, he cannot get through to her. In fact, he has a meeting scheduled with her teacher, Ariel Martin.
As Ariel waits for her meeting with Mia's brother, Tristan, who is late as usual, she notices how late it is getting. Leaving her office to make copies, she hears a door shut and believes that Tristan has finally arrived. But when someone shoots at her, she runs into a room and locks the door. As she struggles to climb out a window, Tristan comes to her rescue.
There have already been a couple deaths in Desert Valley and now it looks like Ariel is the next target. She is thankful to Tristan and his dog for saving her life and his dedication to keeping her safe, but she doesn't want anyone else hurt, especially him. She can only think of one person who would want her dead, but he is already dead, or is he? Now that she has not only herself to think about, but her unborn child as well, she knows she will have to trust Tristan to keep them alive or her fresh start may end before it begins.
An inspiring tale, SECRETS AND LIES, the latest addition to the ROOKIE K-9 UNIT series, penned by inspirational author Shirlee McCoy, is a fast-paced, suspense-filled contemporary romance that will keep you on the edge-of-your-seat. The attraction between Tristan and Ariel is almost immediate, but their relationship slowly develops as he does everything he can to keep her safe and she tries to help him with Mia. Tristan and Ariel are upright, honest people who are dedicated to helping out when they can. Both have suffered in the past and are just trying to live their lives the best they can. I could not help rooting for them as the villain made one attempt after another to rid the world of Ariel Martin.
This Christian based novel is sure to lift your spirits. Each book in this collection is penned by a different author and can be read as a standalone. But after reading it I am sure you will seek the rest. Meanwhile, I look forward to reading the next installment, SEARCH AND RESCUE by Valerie Hansen, due to release in September 2016. Why not treat yourself to a copy of SECRETS AND LIES today! I am sure that afterwards, like me, you will be ordering the remaining books in this series.