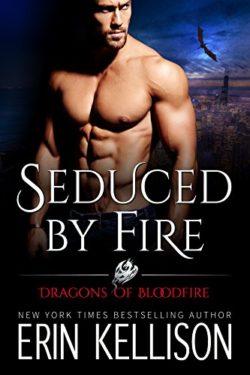 Author

Erin Kellison

Release Date

August 8, 2017

Publisher

Fire Flower Publishing, LLC

ISBN/ASIN

B074JPDDKV

Our Rating

Reviewed by

Raonaid
Our Review
Ryder "Mack" Magnus is a Bloodkin, a royal Midnight dragon lord. Under the guise of Dr. Ted Harrison, he works as a professor of ancient history. Ryder accidentally half-transformed in front of a roomful of human students. To escape the aftermath of his blown cover, he reluctantly agrees to aid Aura in her treasure-hunting scheme. On the adventure, Ryder discovers the reason behind her need for obtaining the priceless Bloodkin artifact. Will Ryder be smart enough to locate the long-lost Bastard's Eye's location? Can Ryder convince Aura that they do have a future together?
Aurelia "Aura" Ortiz is a Bloodkin Sun dragon. She searches for a legendary dragon artifact while evading her son and her insane former mother-in-law. Aura approaches the only man who could possibly help find the fabled Bastard Eye. She refuses to tell Ryder the truth behind her desperate need of the artifact. Trouble threatens the rag-tag treasure hunters. Can Aura successfully keep the Eye from falling into enemy hands? What is Aura willing to sacrifice on this perilous hunt?
I love how Ryder prefers to spend his time around humans than with his own kind. He acknowledges and admires them for their unique limitations and outlook of the world. Ryder behaves antisocially, but he allows only certain people close. He shows such concern and thoughtfulness to those allotted few's happiness and future. What I adore the most about Ryder is how he saves an orphan wolf Bloodkin during the chaotic upheaval of his life.
I love the creativity the author put into Aura's dragon type, especially the detailed strengths and weaknesses associated with the sun. I could not help but feel for Aurelia. Throughout the story, she proves the lengths a mother is capable of when it comes to their children. I admire Aura's determination and resolution to keep her son from committing further trouble. For all her faults, she demonstrates such thoughtful kindness towards Ryder's human friends and the orphaned Bloodkin he took in.
SEDUCED BY FIRE is book three in Erin Kellison's paranormal series, DRAGONS OF BLOODFIRE. I like how the book's beginning overlaps a certain occurrence in AWAKENED BY FIRE, book two in the series, divergent on Ryder and Aura's reaction to the event. I especially love the return of a couple familiar characters from the prior books.
SEDUCED BY FIRE is a thrilling tale of two dragons finding one another again for a chance of happiness and love. I love how Ryder and Aura's "right person, wrong time" relationship turns into the right time. I cannot wait to see who will be in the next installment.