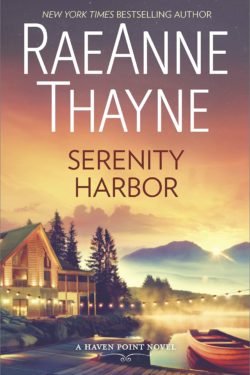 Author

RaeAnne Thayne

Release Date

June 27, 2017

Publisher

Harlequin

ISBN/ASIN

9780373799398

Our Rating

Reviewed by

Dorine
Our Review
SERENITY HARBOR by RaeAnne Thayne touches the heart with an unusual blended family created by need, then vitalized by love. Book six of the HAVEN POINT series reunites fans with many of their favorite characters, including a wedding celebration for one of them.
Teacher Katrina Bailey returns home for her sister's wedding, but her heart remains in Colombia where a little girl awaits her return. Katrina is in the final stages of adopting Gabi, a four-year-old girl with Down syndrome. Yearning to save Gabi from the orphanage where she'll remain without the medical care she needs, Katrina's determination weighs every decision.
When Katrina runs into Bowie Callahan, partner in Aidan Caine's computer empire, her natural gift with children shines through. Bowie's young brother, who is on the spectrum for autism, is having a meltdown in the middle of the grocery store. When Bowie offers Katrina a ridiculous amount of money to be Milo's nanny while she's in town, she can't turn him down. That money may be the perfect answer to her adoption woes in Colombia. Her fear–will her heart bear to abandon one child for another?
Most of the time with series, I remember the next couple when I start reading about them in their book. This time, I didn't remember Katrina or Bowie at all, so I'm not sure they were introduced in prior books, or if I just forgot them. That said, I spent a few confusing chapters trying to remember who was who, so this may be one of those books that will benefit from a reread of the series prior to this one. If you haven't read the series at all, you won't have that fight with your memory chatting with you as you read and may have an easier time of it.
Once all the characters started to click in my brain, I delved into the heart of the story. I found Katrina to be an amazing heroine but at times very difficult to like because of her treatment of Bowie. He also had quirks that made me wonder if he was ready for commitment to a person, when his job seemed to be his one true love. They are both very caught up in their own worlds with no desire to fall in love. They don't make it easy, so when their story ends, it's beautiful.
Bowie's autistic brother, Milo, is the star of this book. That child stole my heart and made me cry. RaeAnne Thayne's ability to characterize a child with disabilities, and their struggle to fit in, is as much heartwarming as it is heartrending. You're going to need your tissues for this one!
Reading RaeAnne Thayne's series books are like catching up with old friends. There's always a busybody or two, well-meaning folks who seem to stir the pot, then there are those you can't wait to see, even if it's just a glimpse. This book wasn't my favorite in the series because I couldn't relate to the main characters, but the children were amazing. Fans of Haven Point will love catching up with the town while enjoying three events that draw them all together. The last event was my all-time favorite. The joy in that chapter was lovely.
For the most enjoyment, read this series in order. Start with book one, SNOW ANGEL COVE, then continue with REDEMPTION BAY, EVERGREEN SPRINGS, RIVERBEND ROAD, and SNOWFALL ON HAVEN POINT. I'm sure you'll laugh, cry, and sigh as they find their happily-ever-afters. I'm excited about Jamie as the hero in book seven, SUGAR PINE TRAIL, releasing in September 2017, because he left a lasting impression in SERENITY HARBOR. I can't wait to know what's behind that flirtatious smile.