Shadow Keeper: A Shadow Riders Novel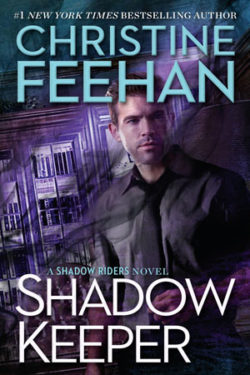 Author

Christine Feehan

Release Date

May 22, 2018

Publisher

Berkley

ISBN/ASIN

0451490124

Our Rating

Reviewed by

Angel Brewer
Our Review
The Shadow Riders are a mysterious breed of people who believe in justice.  They dispense it without fail and make sure that it is always justified.  No one knows who they are or that they even exist. If you are brought into their fold you are protected and cherished beyond all measure.  This is one woman's journey into the shadowy world of the Shadow Riders.
Sasha Provis grew up in a small town on a ranch with cattle and farm animals.  She is not used to the big city life, but when a tragic accident sends her there she is in for a major change.  Working at a night club is not her idea of fun, however, she can't deny that the money is better is than what she would make anywhere else.  Sasha knows the owner Giovanni Ferraro is a major playboy and sees the way he treats women.  Sasha is determined that she would never become one of those women, but when Giovanni turns his attention on her will she be able to resist his charm?
Giovanni Ferraro portrays a playboy in the public eye, but that is not who he really is.  When he meets Sasha, one of the waitresses in his club, he knows that she is the only woman for him.  Sasha thinks he is a womanizer and Giovanni is hell bent on showing her the man behind the myth.  Giovanni hides a dark secret, he is a Shadow Rider, but can't reveal this to Sasha just yet. Giovanni will have Sasha at his side no matter the cost, but someone is working against him and wants to keep the two apart.  Giovanni must keep Sasha safe and find out just who is trying to destroy his new-found relationship.
Christine Feehan always knows how to write a story that keeps you turning the pages and wanting more.  The SHADOW KEEPER series started with a bang and has continued to thrill readers with the stories of the Ferraro family.  Giovanni is another alpha Ferraro brother with plenty of steam to make the readers sweat.  His intensity is not to be denied and his passion is red hot.  Sasha is his perfect match, she has no problem going toe to toe with him and never backing down.  The plot is very suspenseful and keeps readers guessing.  Christine Feehan continues to do an excellent job creating colorful characters and penning intriguing plots in her SHADOW KEEPER series to keep her readers coming back for more.  I can't wait to see what the next book in this series will bring for the Ferraro family.