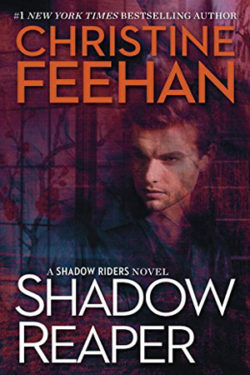 Author

Christine Feehan

Release Date

May 30, 2017

Publisher

Penguin Group (USA) LLC

ISBN/ASIN

B01LZPA7BU

Our Rating

Reviewed by

B Poston
Our Review
In SHADOW REAPER by Christine Feehan, Ricco Ferraro is a member of a very special family. Like his siblings, he is a shadow rider, which makes him a deadly assassin. He is able to get into and out of dangerous situations without being seen and administers justice where it is needed. He has always lived life on the edge. Ricco works hard and plays hard. However, lately he's becoming careless about how he puts himself in danger. His family is worried. They don't know that someone from his past, someone he believes he failed to protect when he was young, haunts his soul. He really doesn't care if he lives or dies.
Mariko meets Ricco, hoping to get the job he has advertised. She is a woman with many secrets. Ricco realizes immediately she's also a shadow rider and feels an immediate connection with her. She makes him feel alive again. There is one little problem though; he believes she has been sent to his home to kill him. The roller coaster ride has now begun.
Christine Feehan creates a world where anything is possible. I love this family and their abilities. SHADOW REAPER is dark and sometimes brutal, but the passion experienced by Ricco and Mariko is very steamy, and I found I could not put this book down until I found out how things would end. This was a great read, but you would expect nothing less from this wonderful author.