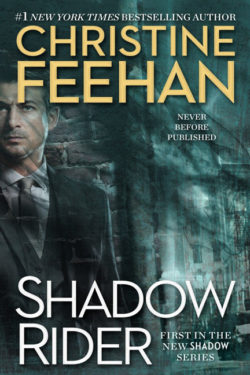 Author

Christine Feehan

Release Date

June 28, 2016

Publisher

Jove

ISBN/ASIN

978-0-515-15613-3

Our Rating

Reviewed by

Jules
Our Review
A desperate woman with a secret, a protector searching for his future. When their shadows collide…
Descending from a long line of shadow riders, Stefano Ferraro's ability to bend shadow and light to his will allows him to mete out justice when the system has failed the innocent. Unfortunately, the same ability makes it difficult to have a serious relationship since he has to marry someone with similar capabilities. When Stefano first hears her voice, something lures him in as he gets his first glance of Francesca Capello. His legendary control goes out the window as he realizes she's the future he believed impossible for him.
Stefano is an arrogant, protective, and dominating control freak–in and out of the bedroom. His life is all about control, but finding Francesca gives him someone he could learn to share his burdens with. The problem is he comes across like a bulldozer in his efforts to protect her.
As for Francesca, she is stubborn and ridiculously prideful. When her pride lands her in a tough situation, she decides to come clean and embrace the safe haven the Ferraro's have been offering her, but is it too late?
Feehan introduces the Ferraro family–a large, close-knit, wealthy, and loyal group of men and women who play hard and love harder. At times repetitive, the storyline was intriguing enough to hold my attention. The concept of shadow riding is unique and the presentation was decently executed, considering all the character building she had to do for future books. Dominating hero, sassy heroine, and Feehan's trademark imagination make SHADOW RIDER a solid entry in this fascinating new series.