Shelter in the Storm (A Johns Mill Amish Romance)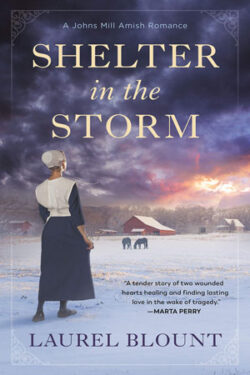 Author

Laurel Blount

Release Date

May 25, 2021

Publisher

Berkley

ISBN/ASIN

9780593200209

Our Rating

Reviewed by

Jo
Our Review
SHELTER IN THE STORM is the first book in the JOHNS MILL AMISH ROMANCE series, and I can't wait to be back for more. This Amish story has layers of richness and well-drawn characters. There is so much tragedy in the story, yet it's mixed with hope and their faith. SHELTER IN THE STORM pits Englischers against the Amish in many ways, but it also shows instances of unexpected understanding from caring members of the outside world.
Naomi has traveled from Kentucky and is visiting her cousin in Johns Mill, Tennessee. While there, she renews her friendship with a neighbor, Joseph, and his family. Joseph and his family are dealing with tragedies and being torn apart by what has occurred and continues to occur. Naomi is a comfort to him during this time of upheaval and sorrow. And something more starts to develop between them.
SHELTER IN THE STORM is an emotional read. There are many references to the church and its teachings, which gives a better understanding of what the characters might be thinking or feeling. Family is central to the story, in addition to faith and love. There is nice closure with some hints of what could be in the future. I particularly liked the cover, since it shows a somewhat unsettling narrative that also has hope. It really speaks to me.
Recommended Read!