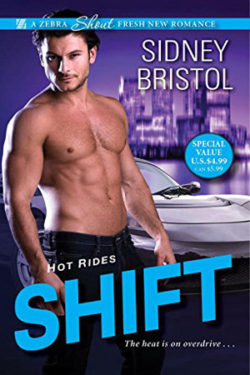 Author

Sidney Bristol

Release Date

July 26, 2016

Publisher

Zebra

ISBN/ASIN

9781420139235

Our Rating

Reviewed by

AngelaG
Our Review
Tori Chazov has lived her life on the run with her sister. Being the daughter of a KGB defector, Tori knows what danger is and what is most likely waiting for her in the future. Becoming an FBI asset has given her the family she always wanted in the form of the group Classic Rides. Working under the hood of cars allows her to forget her problems. However, it doesn't stop her from fantasizing about her co-worker, Emery.
Emery Martin is the technology genius for their undercover FBI group. He doesn't talk much, but he is always thinking and analyzing the group's situations and missions. His past is not something that he talks about. Too much darkness and betrayal has touched him in his life, and joining the FBI was his way to make sure that he can help those that need it, and to avenge the wrongs that are being done to people. Now the time has come to protect the one thing that he holds most precious from danger–Tori.
Danger and intrigue have returned in the next installment of the HOT RIDES series. The Russians have dispatched one of their deadliest assassins to take out the twins. The Eleventh Street gang is back on the scene causing issues. Tori and Emery must work together to protect themselves as they try to figure out how the Russians found the girls. Feelings of trust are being tested by potential betrayals. Will Emery be able to protect Tori from the danger coming? Will Tori and Emery finally act on their feelings for each other, or let the potential danger keep them apart? Death is coming, and everyone must work together, even if it means turning a blind eye to the letter of the law they are supposed to maintain.
Some people think the 2nd book in a series isn't quite as good as the original, but with SHIFT, I must completely disagree. The plot for this book seems to be simple: Russian hitmen are sent to take out Tori and her sister, with the Eleventh Street gang thrown in to exact revenge for what happened in the last book. And this was all in the story, but the twists and turns and new plots that opened kept me completely engrossed. The characters are well written and the interactions are seamless from one scene to the next.
Tori and Roni have an amazing and heartbreaking backstory, and while the author did not fully allow it to come out, she did give some amazing glimpses into what made Tori the way that she is. Emery's character is much more than a computer tech geek. He has a dangerous side he hides away from everyone, but when he lets it is out, it is both terrifying and so damn hot it's ridiculous. This is definitely a book to read.
RJ RECOMMENDED READ