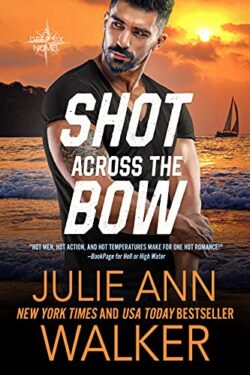 Author

Julie Ann Walker

Release Date

November 29, 2021

Publisher

Limerence Publications LLC

ISBN/ASIN

B0938SCTCV

Our Rating

Reviewed by

Raonaid
Our Review
Spiro "Romeo" Delgado is a former Navy Seal. He and his six Seal brothers search for a particular Spanish sunken ship. Romeo has no intention of giving up on his womanizing ways. That is until he meets one Mia Ennis. Romeo fights against his building interest in the shy yet smart woman. When they find themselves marooned on a sandbar, he gives in to the inevitable. Can Romeo protect Mia from the threat following them? Or will he lose more than just his heart?
Mia Ennis is an accomplished marine archeologist. She helps the Deep Six guys by documenting the salvage process of the legendary galleon Santa Cristina. Mia hides a painful past that she fears will alienate herself from the others. She agrees to keep things amicable between herself and Romeo. However, the man tests Mia's resolve. Things heat up between them when they end up stranded on a small island. Can Mia come to terms with her past? Or will it stand between her and Romeo?
Romeo is so much more than what I expected. He is a man blessed with a sexy face and incredible physique. However, Romeo proves that good looks bring its own set of complications and problems. I admire Romeo's bravado and determination to become someone better. He escaped his crummy roots without his family's approval or help. Romeo even wants to help kids like himself avoid that kind of future. What I adore the most about Romeo is how he comes to Mia's defense. He tries to help her see past her mother's lies to her true worth and beauty.
Mia is such a great fit for Romeo. Her quiet and reticent demeanor balances Romeo's flirty, outgoing ways. They both come from dysfunctional families, which painted their outlook on their self-worth and relationships. I like Mia's selflessness. She thinks of others before herself, even when that person is not so deserving. What I adore the most about Mia is how she sees past Romeo's sexy appearance to the man beneath the façade. She acknowledges the qualities other women either overlook or dismiss openly.
SHOT ACROSS THE BOW is book five in Julie Ann Walker's romantic suspense series, THE DEEP SIX. It is necessary to read the prior four books to understand the overall plot. I like how the author sets up the next couple for her upcoming book in the background. It makes me antsy for the next installment because I am already invested. I am still glad the author returned to this exciting series after a lengthy pause.
SHOT ACROSS THE BOW is a thrilling tale of two people overcoming not only danger but their insecurities to be together. I am bummed that this series is coming to an end. I simply cannot wait for Doc and Camilla's story! It promises to be a good one!