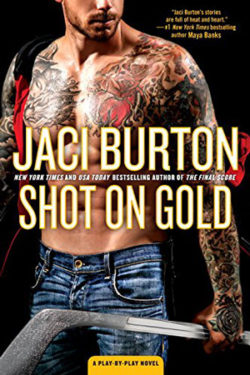 Author

Jaci Burton

Release Date

February 13, 2018

Publisher

Berkley

ISBN/ASIN

B072C1VM5R

Our Rating

Reviewed by

BPoston
Our Review
Amber Sloan is a figure skater representing the United States in the Olympics for the third time. She has worked hard all her life and realizes that because she is getting older, this is her last chance to compete for the elusive gold medal. To win, she must remain focused with nothing standing in her way.
Will "Mad Dog" Madigan is representing the United States in the Olympics as a hockey player. This is his second trip to the winter Olympics, and he knows in his heart his team will come home with gold. He has always enjoyed the party life behind the scenes during the Olympics, but when he meets Amber, everything changes. He is blown away by how amazing she is.
Amber has spent her entire childhood skating. Normal things people do like dating, going out with friends to movies, or attending parties were not allowed because it would interfere with her skating goals. She never expected to meet anybody like Will. He's not only super sexy, but is a genuinely nice man who is determined to show her that winning a medal isn't the only thing that makes life worth living.
With the backdrop of the Olympics and the upcoming winter games beginning in February, SHOT ON GOLD is a fantastic and exciting read. Jaci Burton has created two characters who never expected to meet during the games. The question is, will they have the courage to reach for something that could be more important than gold—like true love?