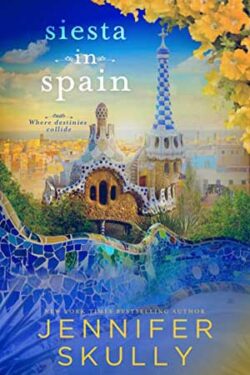 Author

Jennifer Skully

Release Date

October 19, 2022

Publisher

Redwood Valley Publishing

ISBN/ASIN

B0BG3FQNVT

Our Rating

Reviewed by

book lover
Our Review
SIESTA IN SPAIN by Jennifer Skully is book 7 in the Once Again series.
English teacher Nita Jeffries is stuck in a job she hates and a past that still haunts her. After a brief fling with a grieving widower she can't forget, she decides to put him behind her and plans a trip to Spain. After all, who can be sad in Barcelona, between the amazing markets, the stunning architecture, and the fabulous beaches? It's the perfect place to forget the man who stole her heart.
Widowed over a year, Thomas Hunt is still grieving his wife of twenty-five years. She was his everything, and only months after her death, he has a brief encounter with another woman he can't forget, but the guilt makes him pull away.
A business trip in Barcelona, connects Thomas with Nita again, and this time, he can't walk away. He gives into his heart and tours southern Spain with her, spending the nights in her arms.
This is another beautiful second-chance romance that had me rooting for Thomas and Nita from beginning to end. Loved this book!
Recommended Read