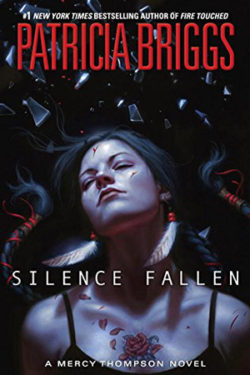 Author

Patricia Briggs

Release Date

March 7, 2017

Publisher

Ace

ISBN/ASIN

978-0425281277

Our Rating

Reviewed by

SJ
Our Review
New York Times bestseller Patricia Briggs returns with another enthralling, adventurous installment of the Mercy Thompson series in SILENCE FALLEN. Fast-paced, the story begins with a kidnapping and continues with Briggs' trademark humor, adventure, and thrilling plot lines. I was sucked in from the first page to the last. An amazing urban fantasy that sets the standard.
The alternating first person POV from Mercy and third person POV from Adam, Mercy's mate, made for a deeper, richer experience and put this novel firmly on top as being one of Patricia Briggs' best to date. Note, this book can be read on its own, but it's a much better read if you've gone through the others in the series preceding this one (the tenth in the series).
Mercy and her cohorts continue to develop. Mercy's power over the undead matures with surprising results. Seeing Adam working with the different factions to free Mercy from the most powerful vampire in existence, taken out of their element in the Tri-Cities as they maneuver among enemies in Europe, ratcheted the excitement. And as always, Mercy's nature to adapt and overcome throws her into danger while making new allies.
Briggs consistently entertains, coming up with new and invigorating strategies for our favorite coyote shifter to handle. The addition of a magical golem in Prague, alongside werewolves, witches, and rogue vampires, made this novel in the series particularly entertaining.
I've since read the story three times and plan to go back for another read. There's a reason why Patricia Briggs is on my auto-buy list. She never disappoints!
A RECOMMENDED READ 5+ Hearts!