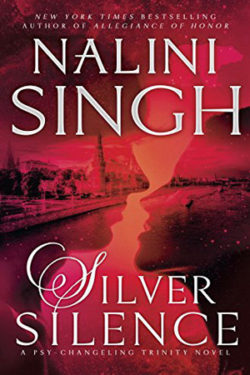 Author

Nalini Singh

Release Date

June 13, 2017

Publisher

Berkley

ISBN/ASIN

978-1101987797

Our Rating

Reviewed by

SJ
Our Review
SILVER SILENCE by Nalini Singh is the first in her Psy-Changeling Trinity spin off from the Psy-Changeling series. It's a romantic thrill ride from beginning to end. Once again, Ms. Singh has managed to delight, stun, and draw forth great emotion with her Psy-Changeling world. Her seemingly effortless attention to detail is stunning, her skillful layering of suspense in an intricate plot captivates from beginning to end.
SILVER SILENCE tells Silver Mercant's story, and this book is best read as part of the series. It could be understood on its own, but it's much richer as a new foray into Singh's complicated world. Silver is a Psy encapsulated in Silence. She works for Kaleb Krycheck, a powerful Councilor, and now heads the a worldwide emergency response network thanks to the Trinity Accord–where all races try to work together in harmony. Yet not everyone wants to be at peace.
And it's into that chaos of betrayal and murder that Alpha of the StoneWater Bear Clan, Valentin Nikolaev, enters. Valentin is fascinated by Silver, seeing in her a possible mate. Even though Silver is immersed in Silence and wants nothing to do with him, the sneaky bear steals into her heart. By providing her sanctuary in his bear clan, he uses the time to seduce her with kindness and affection into seeing the real him. 
But the enemy is working their way steadily closer, and Silver is a target. But the danger is far closer than those outside the bear clan. She'll have to fight the enemy, and herself, if she hopes to find a future with a stubborn Alpha bear who's much more than he seems.
 
I gobbled this book in one sitting, unable to put it down. Singh is a master at pulling the heartstrings, and she had me crying, smiling, and laughing as I read about the Mercant family and the StoneWater Bear Clan. I sincerely hopes she writes more about these fierce, lovable changelings. And I'm thrilled at the exciting direction her series has taken.
I can't rate SILVER SILENCE highly enough. 5+ Hearts. A definite RECOMMENDED READ!!!!!