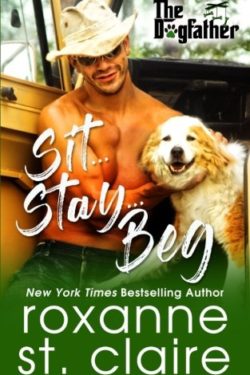 Author

Roxanne St. Claire

Release Date

April 24, 2017

Publisher

South Street Publishing

ISBN/ASIN

B06XPH589N

Our Rating

Reviewed by

Raonaid
Our Review
Garrett Kilcannon comes from a large, dog-orientated Irish family. He jumps whole-heartedly into establishing the dream his widowed father has for Waterford Farm. Garrett trusts dogs more than he does people. Finally content with his life, he wants to keep his past buried, however Jessie Curtis threatens to expose them. Garrett offers Jessie a compromise: if she helps with a despondent dog, he will consent to an interview. Jessie's success with Lola prompts him to give in to the inevitable. Can Garrett trust Jessie with his whole story? Or will she reinforce his distrust with anyone associated with the media?
Jessie Curtis works as a journalist for an online magazine notorious for doing in-depth profiles on people. She is known as "the wall-breaker" at her job for getting her subjects to bare all of their emotions. To earn the anchor promotion, Jessie travels to North Carolina to interview a person from her school days. Waterford Farm brings back both fond and bittersweet memories for her. Jessie accepts Garrett's terms to get her story. She cannot help but fall in love with Garrett and her doggie charge. Can Jessie prove trustworthy to Garrett? Will she finally be someone's number one?
Garrett is such a sweetheart! I could not resist falling head-over-heels in love with not only him but his animal-orientated family. Dogs hold a special place in his heart, and there is nothing Garrett would not do for his rescues. I love the sacrifices he is willing to suffer just to give one rescue new incentive to live. I like the traditions Garrett follows to the letter with each rescue he delivers to their new forever home. I admire his eagerness to see his father's dream into reality. But what I adore most about Garrett is his unselfishness in not interfering with Jessie achieving her dream.
I could not help but identify with Jessie. She is a lonely soul hungry to find the one place to belong. Jessie finds that at Waterford Farm and with Lola and the Kilcannons. I love how easily she loses her heart to a dejected Lola. I like how Jessie uses her wall-breaking talent to free Garrett of his past. But what I admire most about Jessie is her refusal to compromise her morals just to get the anchor position.
SIT…STAY…BEG is book one in Roxanne St. Claire's brand new contemporary series featuring rescue dogs called THE DOGFATHER. I adore that the author focuses more on the sweet aspect of the romance than muddying it with unnecessary sex scenes.
SIT…STAY…BEG is a cute story of two people finally realizing what they both want in life. I like the premise Roxanne St. Claire put into this new series, especially because it revolves around rescued dogs. I hope the author considers putting an opinionated dachshund in a future book. I anticipate further books in this endearing series.