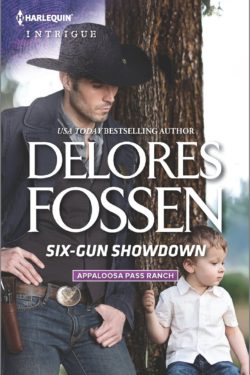 Author

Delores Fossen

Release Date

July 19, 2016

Publisher

Harlequin

ISBN/ASIN

0373699204

Our Rating

Reviewed by

Dottie
Our Review
Criminal investigator Paige was so intent on capturing the Moonlight Strangler that it ruined her marriage. On the day her divorce became final the Moonlight Strangler caught up with her and "killed" her. Though she barely survived, bearing scars from the attack, she feared for her ex-husband and their young son, Matthew, so she faked her death to keep them alive. That was a year ago. Now she has started receiving messages from the killer that are targeting those she has tried to protect. So she must come out of hiding and get help from her ex-husband.
Deputy sheriff Jax Crockett is shocked when he receives the text message, but not as much as when his deceased ex-wife appears before him. For the past year, he has grieved for Paige and has even been angry with her, believing she caused her own death. So now he has a lot of questions for her. But first, they must team up to catch the Moonlight Stranger and save their son.
The attraction between them has always been intense. Working together, they find that has not changed. However, there are questions to be answered if they are to reunite, but first, they must find the killer before he gets to their child, especially when doubts arise about the true identity of their pursuer this time. Is it the Moonlight Stranger, or someone closer to them?
A suspense-filled tale, SIX-GUN SHOWDOWN, the fifth book in USA Today bestselling author Delores Fossen's APPALOOSA PASS RANCH series, is an edge-of-your-seat, action-packed, contemporary romantic suspense that captivates you from the very first page. Unable to put the book down, I tore through it in a short time and then ordered the rest of the series. Jax and Paige are wonderful together as they put aside their differences to save their son. Their love for each other and their son pops off the pages. The secondary characters are delightful and are part of the reason I ordered more of her books.
This book can be read as a standalone, but I am sure that after reading this one, like me, you will seek out the rest. Danger, second chances, family dynamics, suspense, passion, romance, mystery and true love combine to give readers a story they will not soon forget. I cannot wait to read the next installment, LAYING DOWN THE LAW, which is due to release August 23, 2016. In fact, I have already pre-ordered it. Treat yourself to a copy of SIX-GUN SHOWDOWN today, but be sure you have plenty of time to finish it because you won't want to put it down. While you are at it, you may want to also pick up the rest of the series, including LONE WOLF LAWMAN, TAKING AIM AT THE SHERIFF, TROUBLE WITH A BADGE and MARSHALL'S JUSTICE.