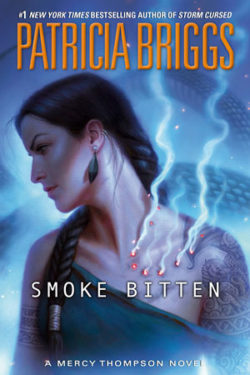 Author

Patricia Briggs

Release Date

March 17, 2020

Publisher

Ace

ISBN/ASIN

9780440001553

Our Rating

Reviewed by

SJ
Our Review
Patricia Briggs, New York Times bestseller, has done it again with SMOKE BITTEN, her outstanding twelfth novel in the Mercy Thompson series. Mercy, a coyote shifter, car mechanic, and married to the alpha of the local werewolf pack, once again lands in trouble when a monster starts murdering innocents on her territory. 
Though this book can be read as a standalone, it's much better read as part of the series, as several consequences of the previous book (STORM CURSED) are found in this one.
Something is going around possessing and killing people, which in itself is a bad thing. But when it infects members of Mercy's pack, then Mercy herself, she needs to find out who they're up against and why. Unfortunately, the enemy turns out to be a fae prisoner who escaped Underhill (a sentient fae land that has no concept of morality or playing nice.)
As if all that wasn't bad enough, there's trouble in the pack. Specifically, in Mercy's bond with her mate, Adam. Something's broken, and it's going to take all her power to save her marriage, her mate, her pack, and herself.
But as usual, Mercy is not alone. She has friends who can help, as well as some surprise appearances from characters we've met before. There are rogue werewolves, witches, a curse, and the monster roaming the pack's territory to keep Mercy more than occupied and the reader rushing through page after page to see what happens next..
Briggs' depiction of Mercy's relationship with Adam continues to grow, never stagnating, and it's refreshing to see a couple flourish while also suffering some extreme downs. There are also pack relationships changing, and that's where Briggs really shines, keeping the characters fully fleshed out. Some continue to make the same mistakes while others mature, making different ones. All in all, the characters feel incredibly real, and you can't help but to root for them.
A must-read for Mercy Thompson fans, and a Recommended Read from Romance Junkies!