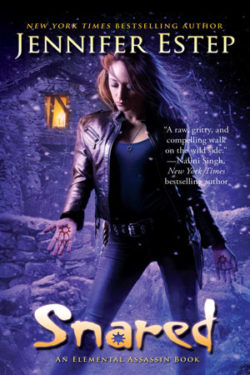 Author

Jennifer Estep

Release Date

April 25, 2017

Publisher

Pocket Books

ISBN/ASIN

9781501142277

Our Rating

Reviewed by

Michele Rioli
Our Review
Sticky as glue, SNARED, the sixteenth book in the ELEMENTAL ASSASSIN SERIES is ripe with danger, wickedly scary and smartly plotted. Gin Blanco, aka the Spider, is a sizzling, bad-ass assassin. With special elemental gifts of ice and stone, and whip fast reflexes with her razor sharp knife, she is a deadly combination of forces. Only, a twisted, lethal being, is trying to capture Gin and she wonders if it is connected to the deadly underworld operation called the Circle. Gin is determined to unravel all the facts and members of the Circle. Super assassin Gin is going to take them down!
Gin and her elemental comrades try to piece together the evidence they have concerning the Circle's operation. Also, she is intent on untangling the plot behind the murder of her mother. There is a new discovery and it totally leaves her reeling. It involves Hugh Tucker, the deadly vampire. What will Gin weave out next? Can she stay one step ahead of the elusive, evil Circle leader?
However, Gin is requested to track down a missing woman, but fearsome forces from the underworld attempt to ambush her. Deceptive data steers Gin into violent territory. Somehow, everything seems to be tied to the Circle. Gin and her crew race against time to find the lady. Will they find her before it's too late?
SNARED is chillingly scary urban fantasy fare with splashes of wry humor, spine-tingling prickles of suspense and an action-packed plot. This is a doozy of a novel! Gin Blanco scores some info on the underworld's hit men and their locations. She is hopping mad when she discovers that Hugh Tucker, vampire warlord, is involved. Gin and her gang are kept on their toes, tackling deadly forces. The author does a rousing job of creating likable characters with flaws.
Gin might get a little rattled and ditzy at times, but it makes her seem more human. I love all her fearsome comrades and their quirky personalities. They make an intriguing bunch! When Gin, Finn, boyfriend Owen and gang regroup and dig toward bigger fish to fry, it is a mixed blessing. The deadly and fiendish turn on them with a vengeance. Can they stop them? Secrets are revealed and there are plenty of cringe worthy bloody fights. Ms. Estep delivers a sensational entry in her ELEMENTAL series leaving me wanting more! SNARED is a smart and kicky novel, that is sizzling, smokin' hot!