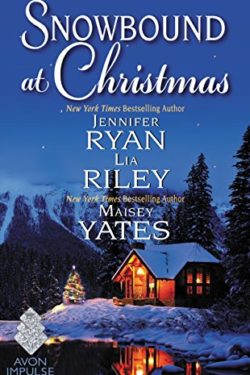 Author

Jennifer Ryan

Release Date

November 15, 2016

Publisher

Avon Impulse

ISBN/ASIN

B01GONJFXY

Our Rating

Reviewed by

Dottie
Our Review
Three delicious, contemporary western romances set at Christmastime, these novellas are sure to lift your spirits and leave you with a smile on your face. Gifted authors Jennifer Ryan, Maisy Yates and Lia Riley team up to bring readers an unforgettable anthology of stories that bring the West to life with a bit of sassiness as well as plenty of humor and heat.
Close to Perfect: A Montana Men Novella by NYT and USA Today bestselling author Jennifer Ryan
At sixteen, Abigail Swain and Dex Manning were greatly attracted to each other, although they had to sneak around to date. Shortly after giving him the gift of a lifetime, one more costly to her than he realizes, she disappears and though he looks for her, he cannot find her. Now ten years later, Abigail is back in town, but this time, it's Dex's turn to sacrifice, or risk losing the woman he has never been able to forget.
Snowed in at Copper Ridge: A Copper Ridge Novella by NYT bestselling author Maisey Yates
Growing up, Mia preferred spending as much time as possible on the Greyson farm rather than with her wealthy, emotionally distant parents, who didn't seem to mind her absence. She had been Faith Greyson's best friend and Faith's brothers were like her own, except for Devlin, for whom she had feelings that could never be reciprocated. Now grown and working as a graphic artist, Mia arrives at the Copper Ridge Lodge, where the Greysons are gathering for the holidays, to find that Devlin is the only one there so far and the snow is rapidly falling. Soon the two find themselves snowed in and the attraction between them is palpable. Mia, a virgin with intimacy issues, has never been able to get close to any guy, but she finds that being with Devlin is different. Will spending the night together lead to their future happiness, or are their differences too much to overcome?
Hot Winter's Night: A Brightwater Novella by Lia Riley
Ever since he left her without warning to join the military at a time when she needed him most, Marigold 'Goldie' Flint has not been able to stand Kitridge 'Kit' Kane. With Brightwater being pounded by snow during a fierce blizzard, Goldie is stuck in her flower shop and in need of a rescuer. However, the last person she expects to come to her aid is Kit, the last man she wants to see. Kit has never forgotten Goldie. He had his reasons for leaving when he did and he knows there is still something between them. Now he just wants Goldie back. With the help of the holidays, the snow, a trumped-up bet and his sassy grandmother, Kit may just be able to make this the best Christmas ever. The only present he wants is a second chance with the woman who holds his heart.
A scrumptious collection of holiday stories by three very gifted authors, Jennifer Ryan, Maisy Yates and Lia Riley's sexy cowboys and the women they love bring the spirit of Christmas to life in these three swoon-worthy western romances. For the most part, these authors were new-to-me, but I loved every word they penned. However, there is one warning before you open the book; it will leave you longing to be snowbound with a sexy cowboy of your own. As an additional bonus, you'll be introduced to authors with substantial backlists of books to consume. Each of the couples has definite chemistry and being snowbound during the holidays adds a magical touch to these wonderful narratives. Sure to be treasured by romance readers everywhere, these sexy novellas will touch your heart.