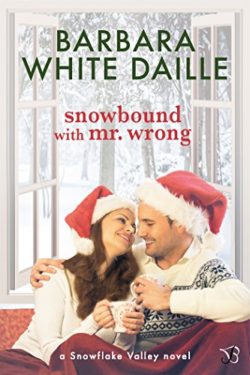 Author

Barbara White Daille

Release Date

November 7, 2016

Publisher

Entangled: Bliss

ISBN/ASIN

1682813509

Our Rating

Reviewed by

Dottie
Our Review
Lyssa Barnett could not let her sister down when she asked her to play Santa's elf at the upcoming Christmas party, despite how badly last year turned out. As a favor to her sister, Lyssa played the same part last year and fell for Nick, the man playing Santa. They dated up until a couple months ago, but his workaholic lifestyle was too much for her, so she broke up with him. Her only stipulation in being the elf this year is that there will be a different Santa. She figures things are starting out bad enough when she must struggle to get into the outfit, thanks to indulging in the holiday goodies a bit early this year. But when she goes out with the children to meet Santa and sees Nick playing Santa again, it seems like things can't get worse…until her sister needs to depart unexpectedly and a snowstorm leaves Lyssa snowed in with an injured Nick and three children.
After being dumped by Lyssa, the last thing troubleshooter Nick Tavlock wants is to be snowbound with her and the children. He agreed to attend the party this year for his friend Mike, who is supposed to be Santa, but when Nick arrives, he discovers that his friend can't make it, leaving Nick to reprise the part once more. Although Mike assured him that Lyssa would not be there this year, here she is as the elf again. He has an important client to meet the next day and needs to get to the airport, but the snowstorm has left him stranded. As upset as Lyssa makes him, he still can't get her off his mind. Soon he finds himself struggling with his desire for Lyssa and entertaining thoughts of kissing her. Will the magic of Christmas and an unexpected snowstorm provide them a second chance at love? Will the children make it home for Christmas?
Filled with the spirit of Christmas, SNOWBOUND WITH MR. WRONG, the latest book by award winning author Barbara White Daille, is a warm, witty contemporary romance that brings the holidays to life right before your eyes. I liked the premise of a second chance holiday romance, so I could not wait to read this story, which more than met my expectations. The difference in their upbringing seems to be at the root of the problems between Nick and Lyssa. Being forced into each other's company gives them a chance to discuss the things they have never talked about before. I really enjoyed Lyssa's ability to relate to the children and as the story progresses; Nick's rapport with the youngsters becomes apparent. Getting the chance to see the situation and Christmas through the children's eyes is a true delight. They add a great deal of fun and humor to this tale.
Snow, Christmas, Santa, a child's joy, second chances, family values, a small hometown, romance, passion and love blend into an unforgettable tale that is perfect for the holidays and all year long. Regardless of the storyline or setting, Barbara White Daille manages to fill her stories with plenty of downhome charm and characters that will warm your heart and make you feel at home! There is a reason Ms. White Daille's novels are on my list of must read books and this novel is a prime example. Treat yourself to an early present; pick up a copy of SNOWBOUND WITH MR. WRONG today and lose yourself in a story that is sure to lift your spirits and leave you smiling.