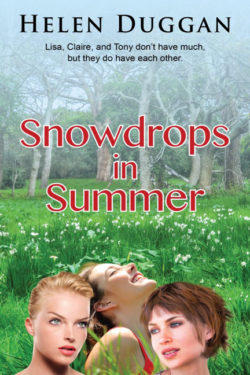 Author

Helen Duggan

Release Date

July 15, 2016

Publisher

Camel Press

ISBN/ASIN

9781603812726

Our Rating

Reviewed by

Diana S.
Our Review
This is the first book I have read by Helen Duggan. Usually a writer of erotica under a different name, Ms. Duggan's first book of women's fiction. I enjoyed the camaraderie and friendship between these three women.
Lisa, Angelica, and Claire have been friends through thick and thin for quite some time. Lisa is a single mother of twin teenage girls, Angelica is a lesbian and the manager of a café, who is looking for her soulmate amidst all the men who want her, and Claire is a single mom with a teenage son who runs with hoodlums and ignores his mother's attempts to make him listen to her.
All three women are "heart" friends who will do anything for each other. Always in need of money, they make a go of it as neighbors in a cul-de-sac in the small village of Newton, South Wales. Lisa works cleaning the local police station where she is having an affair with a dishy policeman named Niall, who is separated from his wife but still living under the same roof.
Their well-to-do friend Mags hires the girls to investigate where her husband goes at night. Finding out, and getting paid well for it, sets the trio to doing some detective work for other friends of Mags. At first discovering the truth for Mags is all a lark, but realizing the work is so profitable they decide to try some more detecting.
SNOWDROPS IN SUMMER doesn't seem to mean anything as far as the story goes. Then the last few chapters bring the title into the foreground. The conclusion isn't anything I imaged would happen. It brings a little sad along with a little joyful ending to a very entertaining story. I hope the author decides to write another women's fiction book as I will be looking for one.